A district in the Volta Region once again scored the least in the UNICEF District League Table, as Krachi East came in 216th in the 2017 table. The Tema Metropolitan Assembly topped the table.
The Eastern Region was however noted to be the worst performing region, although in general, all 10 regions improved their scores significantly.
This District League Table is tabulated in collaboration with the Ministry of Local Government and Rural Development, UNICEF Ghana and the Ghana Center for Democratic Development (CDD Ghana).
It was introduced in 2014 as a social accountability tool that ranks Ghana's 216 MMDAs by their level of development and service delivery.
Based on consultations with the Ministries and Agencies concerned, the District League Table uses indicators from 6 key sectors namely health, education, sanitation, water, governance and security – to compile a single score for each assembly.
The 2017 UNICEF District League Table report noted that Krachi East had a score of 50.6, indicating that the bottom score improved from 2016, when the lowest score of 40.9 was recorded by North Tongu.
"The national average score is 64.7, below which 102 Districts are found – this compares with an average of 58.9 last year," the report noted."
Despite the progress made, it added that "with an eventual target of a score of 100%, it is clear that the majority of Districts are still far from this goal."
The full ranking can be viewed here
Tema Metropolitan Assembly on top
Once again, a district in the Greater Accra Region, the Tema Metropolitan Assembly, was the highest-ranked district with a score of 80.
The Tema Metropolitan Assembly overtook the La Nkwantanang-Madina Municipality which topped the 2016 UNICEF District League Table.
The Tema Metropolitan Assembly had previously topped the table in 2015.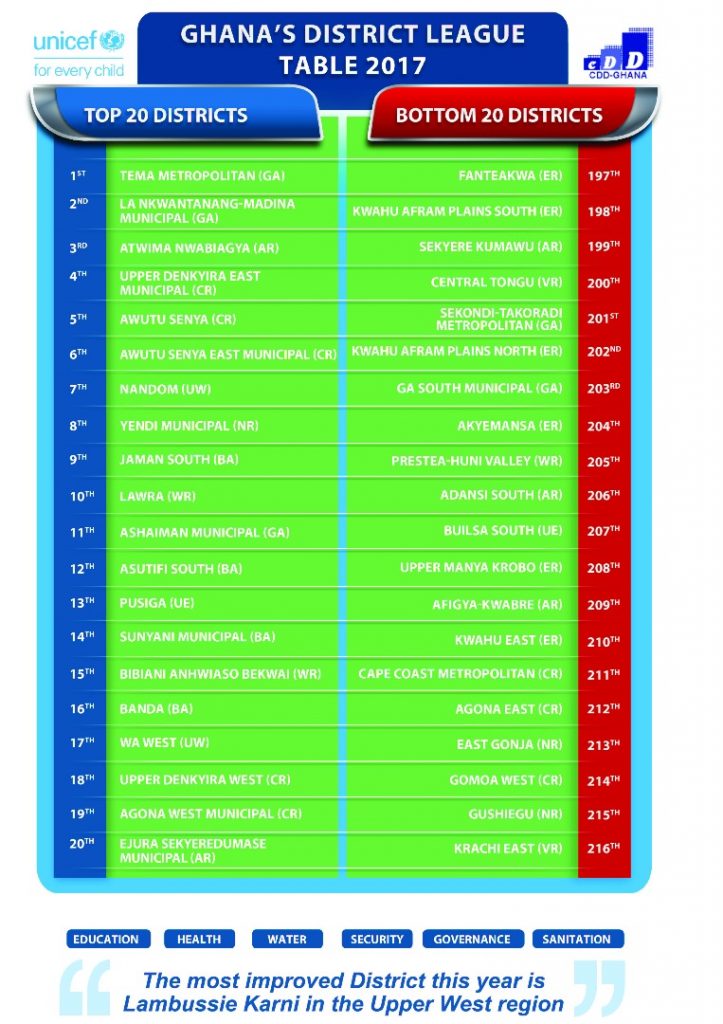 According to the report, "almost half of the top 20 Districts are Municipalities or Metropolitans. However, several less well-off Districts that ranked much lower in previous years have risen to the top 20, such as Lawra in Upper West and Pusiga in Upper East."
Improvement in sanitation
No district in Ghana has been certified as Open Defecation-Free, under the sanitation indicator.
Only about 4 percent of the districts in Ghana have over one-third of their communities free of open defecation.
But the report still noted sanitation as a "key area of improvement" as eight districts; Kumbungu, Mion, and Tatale Sanguli in Northern Region, Bawku West and Pusiga in Upper East, and Lambussie Karni, Nandom and Wa East in Upper West Region, have now managed to certify more than one-third of their communities as Open Defecation Free.
–
By: Delali Adogla-Bessa/citifmonline.com/Ghana