As Zimbabwe's president, Robert Mugabe's time in power appears to be winding down amid political turmoil and a seeming military takeover, former President Jerry Rawlings is mindful of what he calls the long-time ruler's "unassailable" legacy.
President Mugabe's 37 years in charge of Zimbabwe are likely to be remembered for the disastrous management of the economy, but Mr. Rawlings has highlighted the enigmatic Zimbabwean leader's Pan-African ideals.
[contextly_sidebar id="lfNWwJSYrIbBmP4U6QIbIk6Qti3dKCdi"]President Mugabe has been in control of Zimbabwe since it threw off white minority rule in 1980.
In a message on social media, Mr. Rawlings, a former Military ruler, expressed hope that Zimbabwe's current political crisis will pass with the 93 year-old's President Mugabe's legacy and dignity intact.
"As unavoidable as the Zimbabwe situation may be, let us hope that the transition occurs without destroying Mugabe's legacy and dignity unduly. His African pride, dignity and audacity were unassailable. He served and lived for the dignity of his fellow black in a manner that so many of us fell very short of," Mr. Rawlings said.
In the latest developments from Zimbabwe, Robert Mugabe is reportedly holding talks with South African negotiators over his future.
Mr. Mugabe was put under house arrest on Wednesday after the army moved to take control.
Since then, Zimbabwe's opposition leader Morgan Tsvangirai has called on him to resign.
A power struggle between President Mugabe's wife, Grace Mugabe, and her rival, former Vice-President Emmerson Mnangagwa, had split the ruling Zanu-PF party in recent months.
Last week, President Mugabe indicated his support for his wife when he sacked Mnangagwa prompting the military takeover.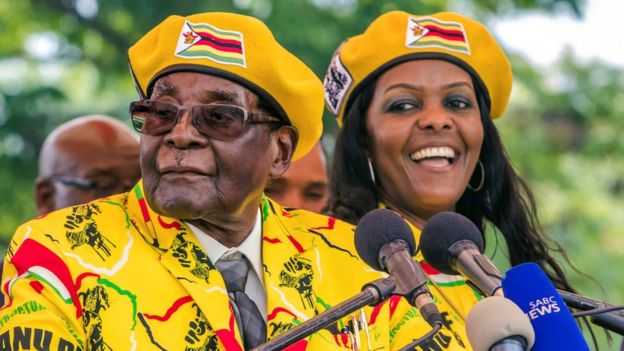 President Mugabe is viewed as a revolutionary hero by Pan Africanists, and is noted as a disciple of Ghana's first President, Kwame Nkrumah.
He spent years in jail after imprisonment in 1964, before coming to power in Zimbabwe elections after independence was declared in 1980.
The Zimbabwean President, who has gained infamy, is best-known for his land reform programme in the 1990s, that involved the seizure of white-owned farms for redistribution to black peasants.
That initiative sent the Zimbabwean economy into a tailspin, which has been noted as the world's fastest-shrinking economy.
Despite the failing economy, what has been cited as one as President Mugabe's undoubted achievements is the expansion of education, with Zimbabwe having Africa's highest literacy rate at 90%.
–
By: Delali Adogla-Bessa/citifmonline.com/Ghana