A Law Lecturer has commended Citi FM for upholding the Constitution of Ghana by holding government accountable as a media organization.
Speaking on the Citi Breakfast Show, Albert Quarshigah, law lecturer at UPSA and private legal practitioner, underscored the importance of Citi FM's approach to radio and lauded the station for adhering to article 162 (5) of the constitution.
"I can say confidently today that if there is any station at all that has been a true definition of article 162 (5) constitutional provision, then it's Citi FM. Because under article 162 (5) you are as a media required to hold government accountable and responsible for the people of this country and I think Citi FM has exemplified it beyond every description," lawyer Quarshigah emphasized.
Article 162 (5) of Ghana's Constitutions states that:  "All agencies of the mass media shall, at all times, be free to uphold the principles, provisions and objectives of this Constitution, and shall uphold the responsibility and accountability of the Government to the people of Ghana."
Lawyer Quarshigah, who is a former employee of Citi FM  said this when he featured on the Citi Breakfast Show on Friday, November 10, 2017, together with other former staff as part of the 13th Anniversary celebration of the formation of Citi FM.
Some other former staff who were also on the show included Selorm Adonoo a former News Editor of Citi FM, immediate past Deputy Director of Communications for the National Health Insurance Authority (NHIA), Clement Akapame, also private legal practitioner, and Kwame Gyan, Deputy Director – Consumer and Corporate Affairs Division at National Communications Authority (NCA).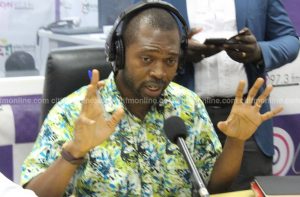 They all used the opportunity to reminisce the roles they played while working at Citi FM.
As part of activities marking its 13th Anniversary, Citi FM on Wednesday inaugurated a borehole project for residents of Korleman in the Ga West Municipality of the Greater Accra Region.
The station also organized an All-White party last Saturday for its staff and some listeners at the Swiss Spirit Hotel in Accra.
–
By: Godwin Akweiteh Allotey/citifmonline.com/Ghana
Follow @AlloteyGodwin