The Evangelical Presbyterian College of Education (E.P.C.E), Bimbilla, in the Nanumba North District of the Northern Region, has held a matriculation ceremony to welcome 418  students admitted into the college to pursue three-year Diploma programmes in Basic Education for the 2017/2018 academic year.
The college was established in October 1962 by the Presbyterian Church to run a four-year cert "A" Teacher Training programme, and started with 35 male students and three teaching staff.
In September 1975, admissions were expanded to include female students and the first batch of 20 female students were admitted.
Following the upgrading of the status of the Teacher Training Colleges into Colleges of Education, the E.P College of Education, Bimbilla, was upgraded to a tertiary institution to train teachers in Science and General programme.
The college has a total student enrollment of 1,680 made up of 1,284 male students, and 396 female students with a teaching staff 42, including 3 females, and 84 members of the non-teaching staff.
This year's enrollment figure stands at 418 students, which according to the Principal of the College, Abdulai Abu Wemah, is a drastic decrease in the number of students enrolled in the College.
He revealed that only 418 applicants qualified for admission, out of over 1,000 candidates who applied. Out of that number, 332 students are pursuing the General programme, and 86 students are studying science.
Addressing the matriculants, the Principal of the EP College of Education, Bimbilla Abdulai Abu Wemah, advised them to take their studies seriously in the quest to obtain a Diploma in Basic Education (BDE) Certificate, as the continuous assessment plays an important role in their academic progression.
He urged students to use the course outline as a guide to study on their own.
On the achievements, the Principal noted that, the academic performance of the College has improved, as they attained a 100 percent pass rate in the 2016/2017 final exams, with five students obtaining first class.
The College also performed well in sports, winning two first-place trophies in soccer and women's volleyball.
The College is faced with serious challenges in terms of classrooms and residential accommodation, and as such, is unable to accommodate most of its staff.
The women's hostel is also in a deplorable shape, whilst access to electricity, water, internet and office accommodation are some of the other challenges the school faces.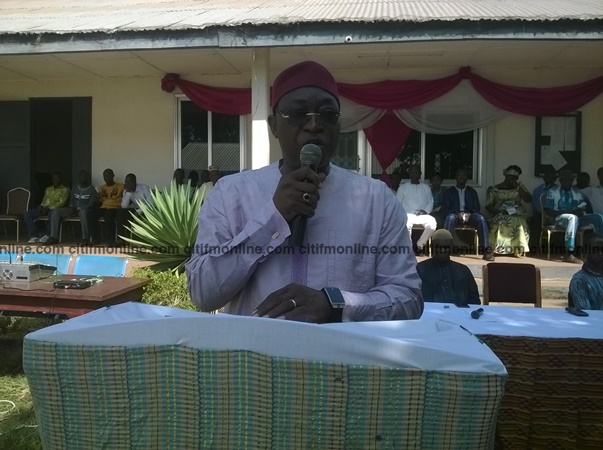 The Principal mentioned that the school has vast land for future expansion projects,  adding that the College has also signed a Memorandum of Understanding (MOU), with the University for Development Studies (UDS), for the establishment of a study center in the College to run first degree programmes.
Mr. Abu Wemah urged the matriculants to use appropriate channels in addressing their grievances, and encouraged them to relate very well with each other.
–
By: Mohammed Aminu M Alabira citifmonline.com