In its continued effort to take virtual reality mainstream, Facebook has announced Oculus Go – a standalone headset that will be released in 2018.
Mark Zuckerberg said the device, priced at $199, would be the "most accessible VR experience ever".
Sales of the company's VR hardware have been slow since launching the first Oculus Rift headset in March 2016.
"If VR doesn't go mass market at this price point, I think we can conclude that it never will," said John Delaney, an analyst with IDC.
The existing budget way to get Facebook's VR is the Samsung Gear VR at $129 – but that requires a high-end Samsung smartphone in order to work.
Speaking at Facebook's yearly virtual reality developers conference in San Jose, Mr Zuckerberg acknowledged the slow adoption of the technology to date. But he said his company's goal was that one day, it would get one billion people into VR.
To get there, the company needs to create a premium, standalone VR device that offers free movement. It hasn't managed that yet – the new Oculus Go should still be regarded as a budget VR experience.
But the company's new head of VR, Hugo Barra, also shared more details about Project Santa Cruz, Facebook's prototype high-end device that will offer movement-tracking without the need for tethering to a computer, or the placing of sensors around a home.
Many had hoped Project Santa Cruz would get a public release date, having first been announced at this event last year. Facebook's new head of VR, Hugo Barra, would only divulge that developers would be sent devices to work with within the next 12 months.
Until then, Oculus Go is Facebook's biggest hope in stepping up the adoption of virtual reality among the general public.
The device will be sent to developers to start building with in November this year. It will offer better visuals than the current Gear VR, but drops well short of the premium VR experience offered by the Oculus Rift and Touch controllers.
'Too crazy or complex'
But the future of this massively-hyped technology is unclear.
Mr Zuckerberg opened the conference with an admission that virtual reality was still some way from being a mainstream product. In an effort to reassure developers working on expensive VR projects, he insisted this was typical of all big new ideas.
"A lot of them seem maybe too crazy or complex at the start," he told delegates.
"Some people say that VR is isolating and anti-social. I actually think it's the opposite. We all have limits to our reality. Opening up more of those experiences to more of us – that's not isolating, that's freeing."
Throughout 2017, Mr Zuckerberg – who has repeatedly said he's not considering a run for president – has travelled the US, meeting regular Americans.
"A lot of the places I have visited don't have the same economic opportunity as we have here [in California]. Enabling us to be present anywhere, creates opportunities for people everywhere."
However, many think those opportunities will come from augmented reality, rather than virtual. Augmented reality is when digital images are placed over the real world in front of you.
The leader in this area is Microsoft with its Hololens product. It too suffers from expensive hardware and low adoption. But once the technology improves, some believe it might offer a great deal more than VR.
"I think one of the problems with VR as a mass-market proposition is that you're unaware of what's happening around you in reality," said analyst Mr Delaney.
"So you'll only wear one of these things in situations where you feel secure about that. Largely, for consumers, that means only at home or in the car [as a passenger]. So although VR can be connected to mobile networks, it is not really mobile."
'We're working on it'
Some believe the missing link in making virtual reality popular with this masses is content. In other words, even with the hardware getting cheaper, there's too few fun experiences to be had.
"Oculus Go is an important step to broaden the audience for VR," remarked Geoff Blaber from CCS Insight.
"But as Google's Daydream platform shows, consumers still lack a compelling reason to adopt it. Developer support and compelling content are critical to building mass market interest."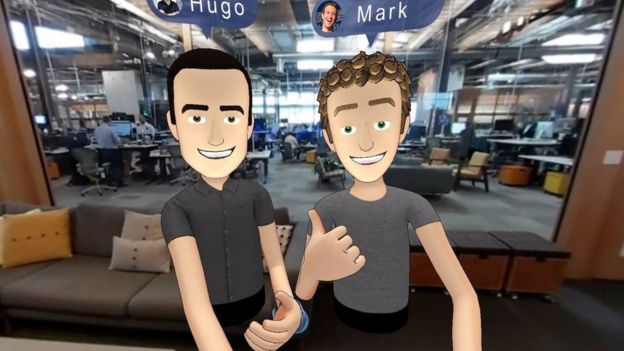 Facebook pointed to several successes, including three Emmy awards won by VR titles this year.
Big Hollywood tie-ups, with studios like Marvel, will look to build on this – but it will take time. A newly-announced tie-up with games developer Respawn, creator of Titanfall, will bring a major new title, but not until at least 2019.
Another strategy for getting Oculus Rift in the hands of more people is to make it part of the world of work.
Facebook launched Oculus for Business, a scheme that will offer firms dedicated support and hardware bundle deals. The company would help firms put VR into their workflows, Mr Barra said.
Over the past three decades, promises of virtual reality have come in waves. This latest effort shows the most promise, by far – but the unavoidable detail is that the hardware still remains too cumbersome for the mass market. Premium VR is too big and too expensive.
"That's not great," Mr Zuckerberg told delegates. "We're working on it."
"Nothing is going to replace being with someone in person. But when we run up against the limits of reality, VR is going to make our reality that much better."
–
Source: BBC