Samsung has unveiled a virtual reality rig designed for use with Windows PCs.
HMD Odyssey joins previously announced VR headsets and hand controllers from Dell, HP, Lenovo, Acer and Asus to form the launch hardware line-up for Microsoft's new Mixed Reality platform.
Unlike earlier PC-based VR kit, the new products are able to track their wearers' movements in a room without requiring additional external sensors.
But experts have questioned whether the market will support so many brands.
Until now, HTC's Vive and Facebook's Oculus Rift have had most of the market in high-end PC-based VR headsets to themselves.
But the two firms had only sold a combined total of just over one million headsets by the end of June, according to SuperData Research.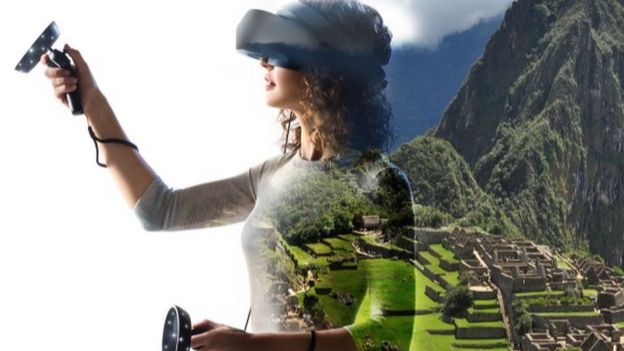 Both have cut their prices in recent months in an attempt to stimulate demand.
By contrast, Samsung's more basic Gear VR – which works with some of its smartphones – had sold more than eight million units, according to the same market research.
"VR is still a very youthful medium," commented Kevin Joyce, editor-in-chief of the news site VR Focus.
"There's a number of significant barriers to entry – price, lack of variety in software collections etc – all of which are slowly being addressed.
"But in the short term, I do think we'll see some of the hardware manufacturers in the current race fall before the final hurdle [since some] will want a return on their investment sooner rather than later."
Halo VR
Microsoft hosted an event in San Francisco to mark the release of a new version of Windows 10 on 17 October that supports new virtual and augmented reality capabilities.
The firm uses the term "mixed reality" to refer to both VR experiences, which are based solely in computer-generated worlds, as well as AR, which mixes graphics and real-world views together.
Samsung's headset was pitched as a premium way to experience VR, thanks to it featuring higher-resolution OLED (organic light-emitting diode) displays than the other new kit. It also has a slightly wider field-of-view and integrated headphones.
However, its $499 (£425) price makes it more expensive and it will go on sale a month later in November.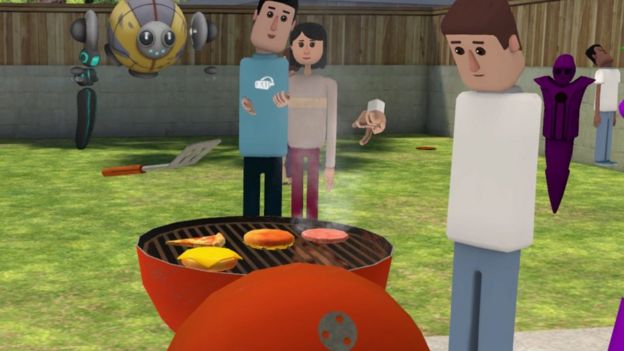 Other announcements included:
Microsoft has acquired AltSpaceVR, a virtual reality-based social media platform. It had announced its closure earlier in the year only to reverse the decision without explanation later
the release of Halo Recruit, a "brief" VR experience set in the firm's sci-fi video game world. It will be given away free later this month
Microsoft is also developing an AR-based headset that does not require a separate PC called the HoloLens. But a prototype sold to developers costs £2,719 and there was no update as to when it will get a mass-market release.
One industry-watcher suggested that consumers tempted to invest in Microsoft and its partners' VR tech should wait a while before making a purchase.
"The launch of all of those head mounted displays will create a lot of competition and possibly price aggressiveness in this space in the coming holiday season," Annette Zimmermann from the consultancy Gartner told the BBC.
"Until now all PC vendors were linking their high-end devices with Oculus or HTC headsets.
"With their own headsets available, it is likely that they will focus on promoting bundles with their own devices."
–
Source: BBC