I arrived in the UK exactly a month ago and I absolutely love my new home Cardiff University, where I have begun my academic life in pursuit of a master's degree in International Public Relations and Global Communications Management.
I've received a number of requests from friends and readers who followed my blogs (https://nanaboakyeyiadom.wordpress.com/) while I was on the YALI programme in the US; that I should blog about my experiences in the UK too. I'll try to keep up, but before I attempt it, let me start from how I eventually ended up here in Wales.
The trigger
I'm not exactly sure what we were talking about in my office but one of my colleagues commented, "But Boakye, as for you don't complain, your life is perfect… Do you have any problem in this life?" The person retorted and was supported by the others in the conversation.
Another quickly started listing the perceived successes in my work, family and my life in general; "You are a director in this office, you fly around to different parts of the world regularly and doing well with your iJourno Africa project". Charley don't even bring yourself", he jokingly threatened.
Those comments rather struck me differently and I recoiled to think about it a little bit more. Indeed I have shared some success stories in my career and projects I have championed outside my regular job. In 2014 in Addis Ababa, Ethiopia, I picked up the first place award in the African Story Challenge competition for African journalists. There were over 200 journalists across the continent that competed and I came up tops.
Later, that story – 'Phone Farming', earned me the Best Online Story award for 2013 at the Ghana Journalists Awards. The prize for that award was for me to choose any international media organization on the planet to work with for a month – it wasn't a difficult decision – The BBC. So I was in London for a month, all expense paid.
In 2015, I started iJourno Africa, a pan-African data journalism training not-for-profit organization to teach student journalists for free. It's currently in Ghana, Kenya and South Africa is 'warming up'.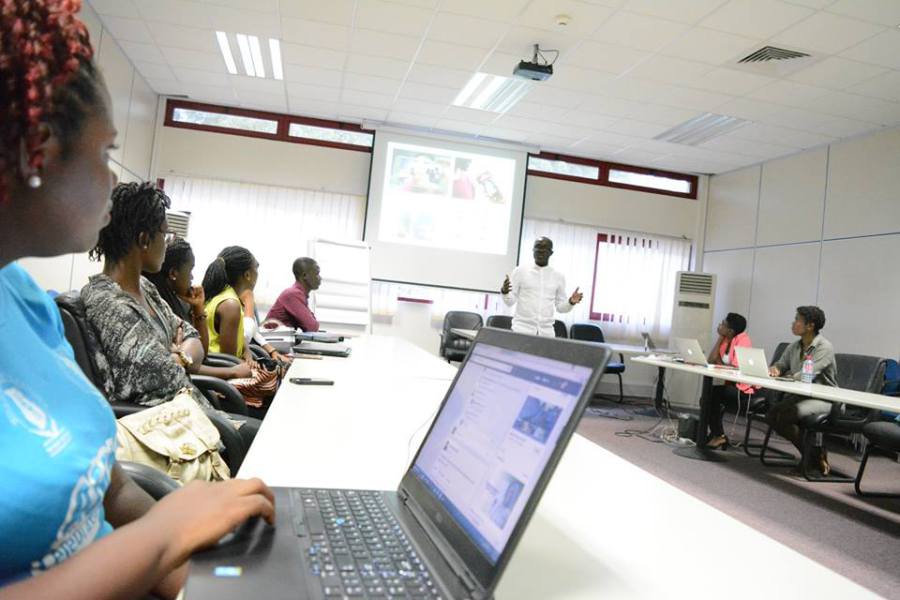 In 2016, I got selected for President Barack Obama's leadership initiative for young Africans called the Mandela Washington Fellowship, under the Young African Leaders Initiative (YALI). As part of the programme, I was camped at the University of Illinois, Urbana-Champaign and subsequently met Mr. Obama in Washington with the other cohorts.
This year, I've been selected for the prestigious UK government-sponsored Chevening Scholarship for my master's degree in the UK and I am studying at Cardiff University.
So 'Charley' I won't fault my colleagues, real and virtual friends who follow me on Facebook, Twitter and Instagram who also see this as a perfect life. Fair!
How about the failures I didn't post on Facebook, etc?
True, the above-listed sound really good especially on a CV. But I believe strongly it's the favour of God upon my life, what I usually hashtag #UnmeritedFavour. You may or may not fully understand it, but that's another discussion. Apart from my wife, very few people know about the several "We are sorry" emails I have received after applying for scores of international training programmes or fellowships or scholarships when I was looking for support to further my education.
At the 2nd of the two send of parties my colleagues and management of Citi FM organized for me before I left, our MD, Samuel Attah-Mensah, popularly known as Sammens, told my colleagues of how to the best of his knowledge, I had attempted and failed on three occasions to secure scholarships with Chevening and Tullow Oil over the last years. "I know Boakye did the first and second world war and failed. We thank God on his third attempt, he finally got it," he said.
Yes, he only knew about the three main ones. And in fact, on this occasion, he wrote one of the two important and powerful referrals to back my Chevening application.
I chased various scholarships for my master's degree for five years. Yes, five! I applied to numerous scholarship programmes; about 15 different times over the period. I wrote a countless number of essays usually between 500 – 2,000 words for each of these scholarships without success. Each application usually demands a minimum of three essays; so do the math on how many words and essays I wrote in all these essays over five years.
Tullow scholarship – When the Tullow Oil scholarship started I tried to secure that scholarship as well, sometime in 2014. That was my first attempt and I made it to the semi-final stage. By this time, I was almost always on the Cardiff University website. Watching videos about my course and the school. Looking at the beautiful greenery, flowers, ancient buildings and testimonials from past students saying amazing things about the school. I would go to bed still thinking about them and dream that I was on campus, only for reality to hit in the morning lol. But at this point, I was almost certain that I was going to be in Cardiff soon. There was no way I won't pass this interview.
When the final list came out a few weeks later, I was eliminated.
I was crushed!
Nothing made sense to me. I was angry, disappointed, deeply hurt to the extent that tears even failed me.
But I had to get over it. I prayed and said to God to take over and that I won't ask Him any questions about how he allowed this to happen to me. He should just take control.
I got over it and made a second attempt the following year. Guess what? I wasn't even shortlisted for an interview. The same scholarship programme I went all the way to the semi-final. It didn't make sense to me but again, "I let go and let God". I tried my hands on other ones; Commonwealth Scholarship, World Bank Scholarship, Mastercard scholarship for Africans, Japanese, South Africa, China and many others that didn't even look credible. I think I was getting desperate at this point. All those returned with "We are sorry you were not selected because, this year, the number of applications… Blah blah blah."
Charley 'Man Taya'! (Man is tired!)
YALI
But I decided to do other things, if (In my mind), God didn't want me to pursue my master's degree anytime soon. So I applied for Barack Obama's initiative called the Mandala Washington Fellowship, under the Young African Leaders Initiative (YALI). Let me also disclose to you that getting onto the YALI programme last year wasn't on my first attempt. Yup! I had tried in 2014. Again, an email came, patronized me and finally delivered the uppercut. "You were not selected for the interview stage!" Again, I re-grouped and applied in 2015, the results came out in 2016 and BINGO!
Chevening Scholarship
My family and friends are really excited about my selection for the Chevening Scholarship. But guess what? This is not the first time I've applied for this scholarship, I tried it first in 2012 but I couldn't even make the cut for an interview session. You can imagine all the rhetorical questions I asked myself. Again, "I let go and let God". I applied again in 2016, the results came out this year and BINGO!
The trick though
I am an optimist, but there were many times I nearly gave up. There were many times I said to myself that perhaps I was not meant to pursue a masters degree abroad so I should just look for the funds and study right here in Ghana, even though I had told myself several times that I'd pursue my second degree in a good university outside because of certain advantages I believe it comes with – (Doesn't mean schooling in Ghana is bad). But when the frustrations set in, you're most likely to doubt yourself, God and blame everything else and anybody around you, including the witches in your house.
How did I finally get results?
Truth is, the reason somehow I managed to claw back and finally got the opportunities in YALI and Chevening is that I kept doing the things I needed to do at Citi FM and took on leadership roles I was offered and tried to execute them as best as I could.
Outside Citi FM, I tried to learn new things, take on new challenges – and that's how iJourno Africa was born. And I can confidently say the new challenges I took on and the new things I learned during the "fallow period," finally got me what I wanted, and of course the #UnmeritedFavour.
When I got the opportunity for interviews on YALI and Chevening, I put in so much effort; I researched, spoke to past beneficiaries and even did mock interviews with some of them. Before I went for the YALI interview, I did a mock interview with Ethel Cofie (Founder of Women in Tech Africa) and Tonyi Senayah (Horseman Shoes). Before I went for my Chevening interview, I also had mock interviews with Sammy Bartels (A former Chevener who now works with Vodafone) and my boss Bernard Avle (Host of the Citi Breakfast Show). I just did not want to take chances and in the end, it paid off.
Consider these while in distress
1.Maybe it's not time yet.
2.But keep your eye on the ball.
3.And while at it, do other things to improve yourself. Don't mark time.
4.Keep believing God will do it eventually.
Don't give up. Keep pushing. And finally, when you get what you want, write a blog like this. Who knows, it might encourage someone in a similar situation.
I'll share my experiences in the first month in Cardiff soon.
I'm out…
–
By: Nana Boakye-Yiadom