Police are working to establish the motive behind a mass shooting which left at least 59 dead and another 527 injured at a Las Vegas concert.
Gunman Stephen Paddock, 64, opened fire from the 32nd floor of the Mandalay Bay Hotel towards an open-air music festival on Sunday evening.
Police found 23 guns in his hotel room, as well as "in excess of" 19 firearms and explosives at his Nevada home.
But as yet, no clear reason for the killing has emerged.
Investigators have found no link to international terrorism, despite a claim from so-called Islamic State. Some investigators have suggested psychological issues, but there is no confirmation of this.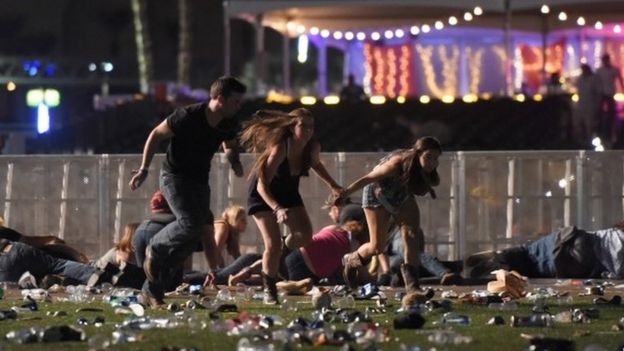 What do we know of the gunman?
Stephen Paddock lived in a community of senior citizens in the small town of Mesquite, north-east of Las Vegas.
He reportedly lived with a woman called Marilou Danley who is out of the country in Japan, and does not appear to be involved, police said.
Las Vegas Sheriff Joseph Lombardo said when police searched the property after the attack they found 19 "additional firearms, some explosives and several thousand rounds of ammo, along with some electronic devices we're evaluating at this point".
Officers also found ammonium nitrate in Paddock's car. The explosive found in his home was tannerite, the sheriff said.
There is a second house in northern Nevada which Swat teams are due to check for booby-traps before carrying out a search , Sheriff Lombardo said.
David Famiglietti of the New Frontier Armory told the BBC that Paddock had purchased firearms at his store in North Las Vegas in the spring of this year, meeting all state and federal requirements, including an FBI background check.
However, the shotgun and rifle Paddock bought would not have been "capable of what we've seen and heard in the video without modification," Mr Famiglietti said.
Despite the large cache of weapons in his home, his brother, Eric, is dumbfounded that he acted this way.
Las Vegas Sheriff Joe Lombardo described the shooting as a "lone wolf" attack.
So-called Islamic State (IS) has claimed to be behind the attack, saying Paddock had converted to Islam some months ago.
But the group provided no evidence for this and has made unsubstantiated claims in the past.
FBI Special Agent Aaron Rouse told a news conference: "We have determined at this point no connection to an international terrorist organisation."
IS's claim of responsibility for the Las Vegas attack is very unusual in that the perpetrator's profile does not fit that of supporters or "soldiers" that the group has claimed in the past, writes Mina al-Lami, who monitors jihadist groups for the BBC.
If true, his suicide would be deemed wholly "un-Islamic", she adds.
Jihadist suicides involve the assailant blowing himself up in order to kill those around him.
---
How did the attack unfold?
The final shows of the three-day Route 91 country music festival were in full swing when the gunman struck.
According to police, Paddock had booked into the hotel four days earlier, on 28 September, reportedly using some of Ms Danley's identity documents.
Sheriff Lombardo said there were 10 suitcases in the suite, which had two rooms.
Thousands were enjoying a performance by top-billing singer Jason Aldean when the first of several bursts of automatic gunfire rang out – hundreds of shots, witnesses say. That was late on Sunday night – 22:08 local time (05:08 GMT on Monday).
Hundreds of concert-goers scrambled for cover, flattening themselves against the ground, rushing for the exits or helping others to escape as Paddock sprayed the site from his high vantage point.
It is thought he moved between two windows in his suite as he carried out the attack.
"One man had blood all over him and that's when I knew something was seriously wrong," Mike Thompson from London, told the BBC.
"People were running and there was chaos."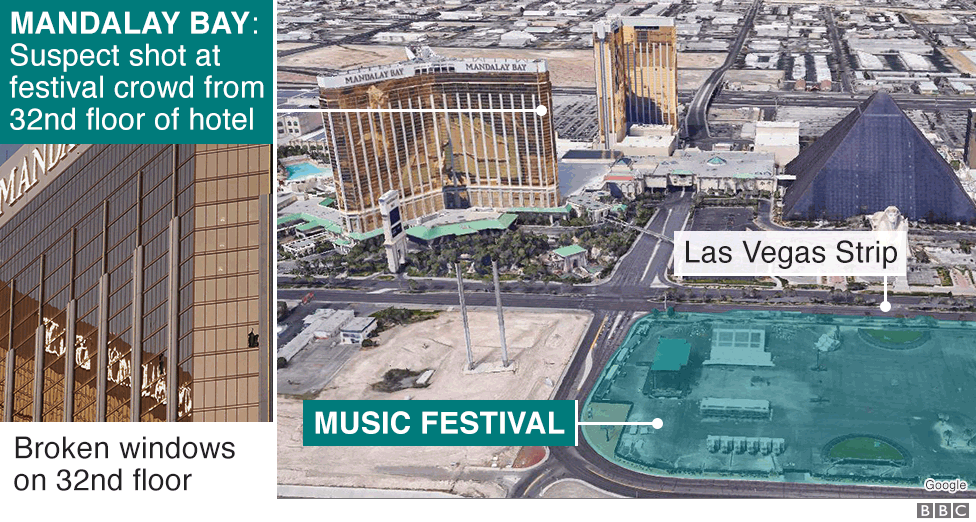 Many hotels on the Las Vegas strip close to the scene were placed on police lockdown and parts of Las Vegas Boulevard were shut.
---
Who are the victims?
The authorities have yet to confirm the identities of any of the 58 killed.
Jordan McIldoon, 23, from British Columbia in Canada, has been identified as a victim of the attack by CBC News.
A nurse, Sonny Melton, of Big Sandy, Tennessee, has been named as another victim by The Jackson Sun newspaper.
In a Facebook post, his wife, Dr Heather Gulish Melton, said she "lost my true love and knight in shining armor. I appreciate the prayers but I just need some time."
An off-duty Las Vegas police officer was another of those who died.
---
What gun laws does Nevada have?
Nevada has some of the least stringent gun laws in the United States.
People are allowed to carry weapons and do not have to register themselves as a gun-owner.
Background checks are done when people buy guns, but they are also allowed to sell them privately.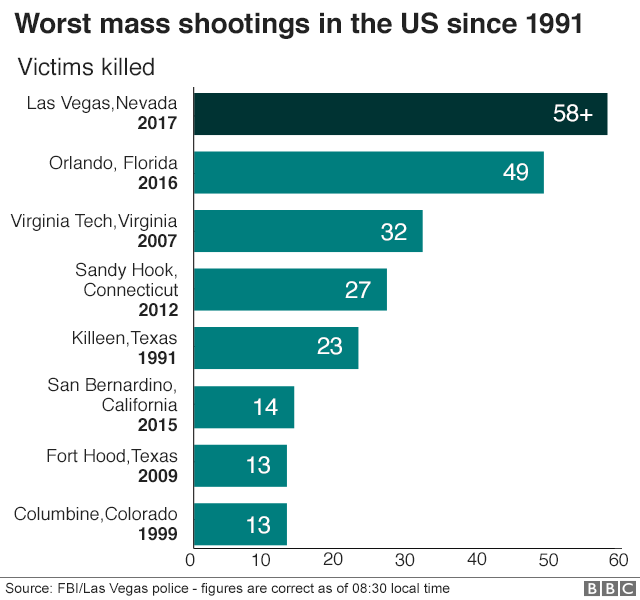 Former congresswoman Gabrielle Giffords, who survived a shooting six years ago, called for political leaders in Washington to introduce tougher gun laws following the Las Vegas attack.
Her husband Mark Kelly read out a joint statement on the steps of the Capitol saying thoughts and prayers from the White House were not enough to stop the next shooting.
–
Source: BBC