In a bid to consistently offer customers the best experience, management, and the customer excellence team of the fastest-growing conglomerate in Ghana, Groupe Ideal with over 13 subsidiaries visited customers across the country.
The visit forms part of Groupe Ideal customer service week celebration dubbed'' BUILDING TRUST, A BETTER CUSTOMER EXPERIENCE FOR ALL''. This was geared towards putting a smile on the faces of customers and equipping internal customers with the requisite skills to meet customer requirements and to subsequently track progress on service delivery improvements.
During the external visit, the team interacted with customers on their needs and also gathered some feedback to help in delivering customized solutions to the customers to meet their unique needs.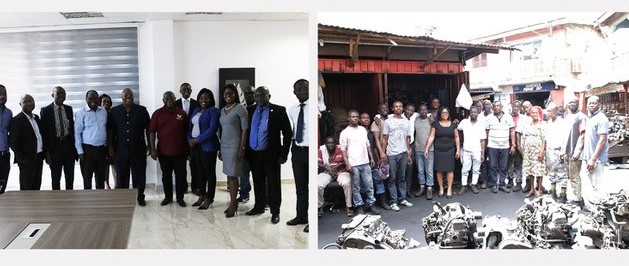 Speaking on the theme, The President of Groupe Ideal Dr. Nii Kotei Dzani who led the delegation for the visit said, ''Customers are the backbone of every growing business. Without them, we will not exist. You are the reason for our continuous innovations and initiatives.''
He noted that ''It is evident that people deserve a better and more deepened relationship with organizations they invest in. This takes a lot of hard work. We appreciate your trust in us. Our value proposition has always been to provide solutions and deliver them on time.
As we celebrate customer service week, we want to let you know that you are a part of our success story.
Your needs are our topmost priority. In the quest to cheering you, we want to say you are the best. We are thankful for you and will continue working to honor the trust you place in us.
The Head of Customer Excellence Ethel Darko added that "We acknowledge the changing needs of the customer in these recent times; understanding that consumer experience starts and ends with each of us".
Your feedback is our way forward, we are here to deliver excellent service '' she ended.
The visit is expected to help the organization build trust with it's customers and also attract prospects to enhance business growth and profitability.
–
Source: Groupe Ideal