Dozens of staff of the La branch of Marwako Restaurant, have been evacuated following a reported gas leakage at the facility.
Workers at a Total and a Goil fuel station nearby have also been evacuated.
[contextly_sidebar id="atpMU9Q5a3kOxN0uSPO2tBi3knKeCEm2″]Citi News has gathered that personnel of the Ghana National Fire Service (GNFS) are currently at the scene helping to avert an explosion.
According to the General Manager of the restaurant, Richmond Kponor, the leakage was noticed on Monday morning and all operations were stopped. Speaking to Citi News,  Mr. Kponor said work at the restaurant would resume in a few hours.
The Public Relations Officer of GNFS, Prince Billy Anaglate, told Citi News that the Fire Service was informed of the situation at about 10:30 am, and a team was swiftly dispatched to the scene and have since been working to address the problem.
He said one of the restaurant's cylinders appeared to have been perforated from beneath it, hence the leakage.
He called for calm among residents, noting that the affected the cylinder was currently being cooled for safe flaring.
"We were called at 10:34am and we got there. We saw that there was a leak from a gas cylinder that the restaurant had been using. They have 3 bottles of those gas cylinders, but they were packed on a metal floor. Due to the slow combustion of the metal in which they had packed them, one of the cylinders itself had been perforated and was leaking from beneath it."
"The firemen are trying to cool the whole temperature of the cylinder to prevent an explosion, and also flaring the gas to empty the bottle," Mr. Anaglate told Citi News.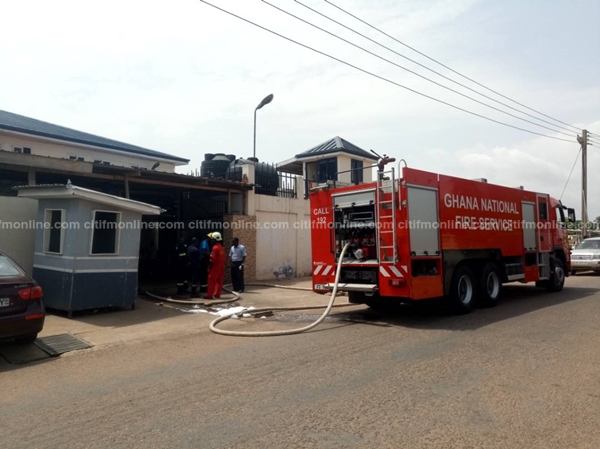 There is a general apprehension in the country following a major gas explosion at Atomic junction in Accra last week.
The incident which left about 7 people dead, and more than 130 others injured, started from a gas station located few meters away from a Total fuel station.
More than 8 cars were burnt to ashes.
The Fire Service last weekend averted another gas explosion at Achimota when fire gutted the engine compartment of a gas tanker.
–
By: Jonas Nyabor/citifmonline.com/Ghana