The 13 members of Delta Force, a New Patriotic Party-affiliated group, who went on rampage attacking a public officer, have been rearrested and slapped with a new charge of rioting, at the Kumasi Circuit Court.
They were initially facing charges of conspiracy to assault a public officer, and causing unlawful damage in April 2017.
The prosecutor, ACP Okyere Darko, told the court presided over by Her Honor, Mary Nsenkyire during today's [Tuesday] hearing that, the Attorney General had withdrawn all the earlier charges.
[contextly_sidebar id="fFsb3uxOWvofg72KZWKmCLHsuRbyqlkA"]The suspects have thus been rearrested, and their lawyers are securing bail for them.
Meanwhile, lawyer for the accused persons, Matthew Appiah, is not entirely happy with the turn of events. He maintains that his clients are innocent.
"We have already insisted that the initial charges were not right, so it is now that the Attorney General has advised that it is just rioting from the facts of the case, so that is the procedure and we are bound to comply."
"The police has taken them back, we are yet to see if we can bail them, if they give us a new date, we will proceed to the district court for the trial to be commenced."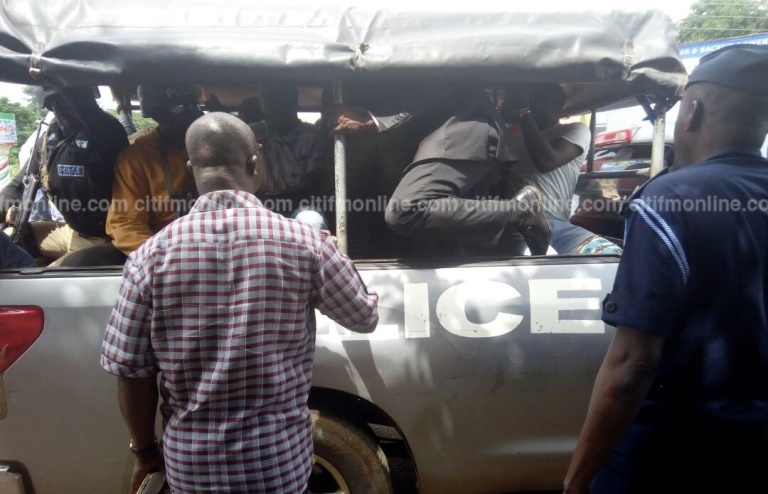 The 13 were arrested after they stormed the office of the Ashanti Regional Security Coordinator and allegedly assaulted him in the process, in protest against his appointment.
At their first appearance in court, the 13 escaped from lawful custody, when the Judge ruled that they be remanded and not given bail.
They reported themselves to the police, and were fined Ghc2,400 each, and also made to sign a bond of good behaviour for escaping lawful custody.
AG drops charges against 8 Delta Force court raiders
Meanwhile, the case involving the eight (8) persons, supposedly aligned to the NPP, who stormed the court to release the 13, was eventually dropped by the state for lack of evidence.
This infuriated many Ghanaians, as critics concluded that the government had left the lawless folks off the hook merely because they were supporters of the ruling party.
Attorney didn't consult AG before dropping Delta Force charges – Gov't
Surprisingly, the Attorney-General's Department at the time suggested that they had not sanctioned the state prosecutor in Kumasi to drop the case involving the eight who raided the court.
But not many Ghanaians bought into this story from the government.
For now, it remains to be seen how the state will pursue the case of the thirteen, who are now facing a new single charge of rioting.
–
By: Loretta Timah/citifmonline.com