Police in Wassa Amenfi in the Western Region, have transferred the case of the Chinese national and his accomplices, over the alleged shooting to death of a Ghanaian, Nana Boafo, to the Regional Police Command in Sekondi.
The District Police Commander for Wassa Amenfi East District, Superintendent Bright Boafo, who spoke to Citi News said even though the process for justice has begun, the command cannot guarantee the safety of the Chinese and their properties in the town.
[contextly_sidebar id="brJOyqGe9BkIjTLizsx3Q5y4zfJX8H7d"]"We thought it wise not to keep them at the Wassa Akropong Police Station for fear that the youth may vandalize or demand a release for instant justice,"  he said.
Aside from this, Supt. Boafo said, "the regional commander came, he also directed that this matter should be investigated at the regional headquarters at Sekondi."
Meanwhile, a group calling itself the Wassa Amenfi Youth Network for Development, has described the killing of Nana Boah as the culmination of a culture of intimidation, lawlessness of the Chinese in the area.
The group also said the Chinese in Wassa Amenfi abuse the freedom they enjoy, and also undermine the Ghanaian hospitality.
Frederick Korankye, the convener of the group, noted that attempts to foster cooperation  between the natives and the foreigners with the opening of the Wassa Amanfi Chapter of the Ghana-China Association was unsuccessful.
"However the unsuccessfulness of the process has partly contributed to the unguided and unregulated Chinese operations in our land," he lamented.
"Most alarming is the use of weapons by Chinese to secure themselves and their existence here in our homeland," Frederick Korankye added.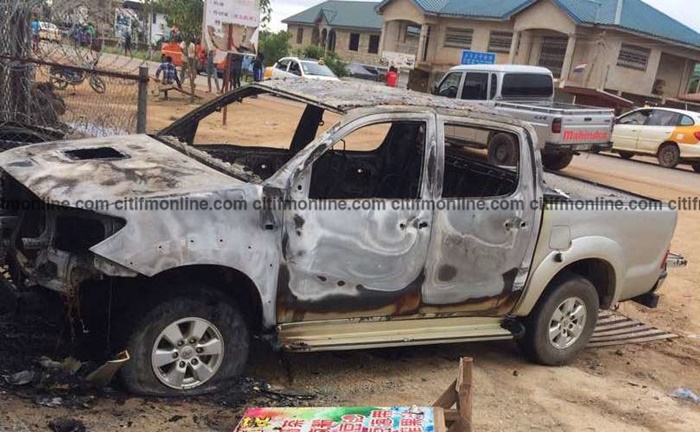 The anger in the area has seen other angry youth set up checkpoints on the Wassa Akropong High street in search of Chinese nationals following the killing last Friday.
The killing itself was met with riots on the day which resulted in about 14 cars belonging to the Chinese, as well as some of their shops being set ablaze by the youth.
About 48 Chinese nationals had to be relocated from the town to other areas for safety.
The story so far
Initial reports had suggested that the gun was accidentally fired by the Chinese killing the Ghanaian, during an altercation between two Chinese nationals at a Casino.
Eyewitnesses told Citi News that the incident was triggered when a plumber who was hired by some Chinese nationals to undertake some services called on the deceased, as a witness, after the Chinese refused to pay the GHc150 he charged.
During the confrontation, a gun brought out by one of the Chinese was seized by the two Ghanaians but a second gun was reportedly fired by the Chinese, killing the witness, Nana Boamah instantly.
The incident angered the youth of the town who burnt and vandalized properties belonging to the Chinese nationals.
–
By: Obrempong Yaw Ampofo/citifmonline.com/Ghana