Following the challenges that struck the paperless clearing system introduced at Ghana's ports, the Ghana Revenue Authority (GRA) has assured importers that it will clear the huge backlog at the weekend.
Government began the implementation of the paperless clearing system last week to reduce time spent on clearing goods from two weeks to four hours, and ensure order at the port, whilst blocking loopholes.
But the aim to which the system was established experienced some hitches.
[contextly_sidebar id="YCw9qS3918c04kECs0L9N2zp8YmVCxpb"]Hundreds of angry Freight Forwarders last Thursday thronged the Longroom of the Tema Port to protest over the delays in the system.
Meanwhile, speaking on the Eyewitness News on Friday, the Commissioner for the Customs Division of the GRA, Isaac Crentsil conceded that his staff were overwhelmed with the documents that came through the compliance unit but assured that the hitches will be sorted out before Monday.
"What happened was that what coming to the compliance office was more than the staff. So there was so much pile of work. So throughout the night…we are seriously working on it to clear the backlog. Hopefully by Monday, things will normalize. The work has doubled. In the manual system, one officer was doing about maybe ten a day but now they are doing about 20 which means the work there has doubled and that overwhelmed the staff over there.  But now we have called so many officers into the compliance unit and they have been working from Friday, Saturday and then possible Sunday to clear everything."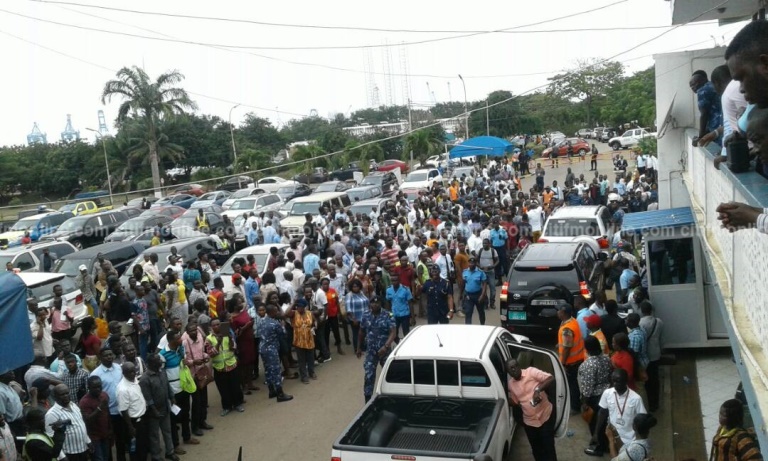 Mr. Crentsil said they currently have "over a 1,000 declarations" to deal with adding that his outfit has put in place measures to have every issue cleared on time.
–
By: Godwin Akweiteh Allotey/citifmonline.com/Ghana
Follow @AlloteyGodwin