The Krontihene of the New Juaben Tradition Area, Baffour Nyantakyi Tutu Boateng has revealed that government's One-district-One- Factory project will not succeed in the New Juaben Municipality because there are no available lands for factories.
The acting Omanhene of the New Juaben Tradition Area disclosed this in an interview with Citi News at the maiden town hall meeting held at the New Juaben Municipal Assembly in Koforidua on Tuesday.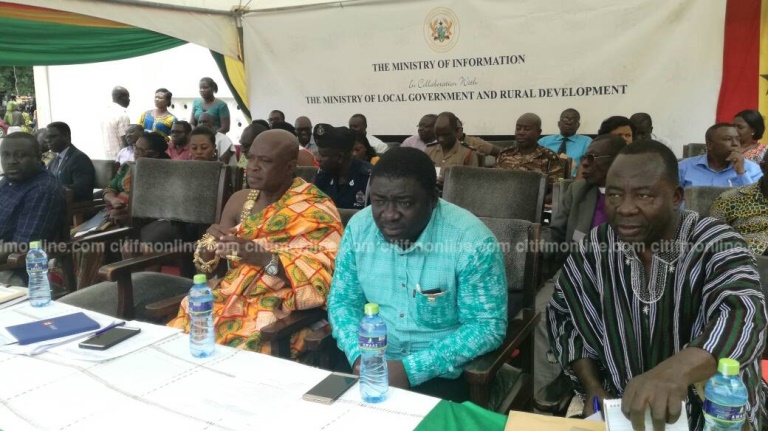 He accused the Eastern Regional Lands Commission of selling all lands in the Municipality including vested lands without the knowledge of the traditional authorities.
"We have a problem with New Juaben lands now because the executive instrument (EI 195) which gave the then Nkrumah government the power to hold the Koforidua and Nkawkaw lands have all been sold by the Regional Lands Commission office. Those lands are all vested lands and it does not mean the lands are solely for government but government is holding those lands in trust for the Chiefs."
"The executives of the Lands Commission here have taken undue advantage of the executive instrument and are selling all the lands in the municipality and even beyond, they have gone as far as to sell lands beyond Koforidua which are Asokore, Oyoko, Jumapo, Sushyen, Akwadum and I must say all those places are not vested but they are riding on this executive instrument to sell the lands anyhow," he added.
Baffour Tutu said "if the government ask us to provide lands for the flagship program one district one factory I must say it will be very difficult to make available any land because the Regional Lands Commission has sold all the lands, they have sold the lands among themselves and it will be a challenge to identify a portion of land in the municipality for any developmental project."
Krontihene pleaded with government to intervene to bring sanity to the Lands Commission.
"We reported this issue to the previous government and when power shifted we informed President Nana Addo about it when he came for the thank you tour, we also told the Eastern Regional Minister about this same issue when he paid a courtesy call on Nananom at the palace when he took office after his appointment and he asked for a written statement on it so a committee was immediately constituted to see to that, as I speak a proposal have been drafted and sent to the traditional authority which will be forwarded to government soon. The three Northern Regions used to face the same problem until the government intervened so we want this government to take the necessary steps to give us back our lands," the acting Omanhene added.
–
By: Neil Nii Amatey Kanarku/citifmonline.com/Ghana