Owners of the 131 radio stations sanctioned for operating with expired licenses as well as other offences, would have to cough up about GHc1.18 billion or forever shutdown their businesses.
34 radio stations have already had their licenses revoked by the National Communication Authority (NCA), for not renewing their licenses even after several notices, while others have been fined.
NCA said it took the decision after conducting "spectrum audit" into the radio space.
"The National Communications Authority (NCA), has sanctioned a total of 131 FM Authorization Holders found to have committed various infractions pertaining to their authorizations to operate as contained in Section 13 of the Electronics Communications Act (2009), Act 775," NCA said in a statement.
About 26 radio stations in the Western Region were sanctioned by the NCA for various infractions.
This was followed by Greater Accra and Volta Regions which had 16 each stations affected.
Ashanti and Northern Regions also followed with 15 stations each being sanctioned, Eastern 13, Central, 11, Brong, 11, Upper East, 4 and Upper West 4.
Below is an infographic summarizing how much radio stations in each region are to cough up: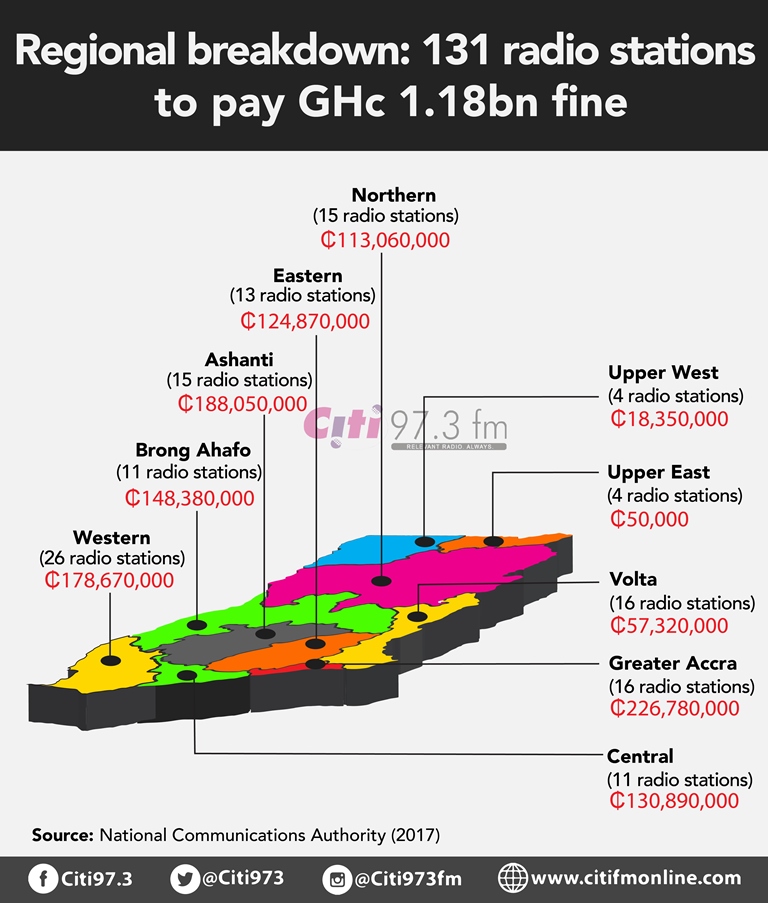 –
By: Godwin A. Allotey & Melvin M. Clottey/citifmonline.com/Ghana
Follow @AlloteyGodwin