Architectural and Engineering Services Limited (AESL), has downplayed concerns that a significant portion of Ghana's history has been erased with the demolition of parts of the Old Parliament House.
AESL, which will be supervising the construction work, says it will ensure that the design of the structure will not be altered.
[contextly_sidebar id="Jjf2GQOKqAzmzh8wjwftoMP0uyjpOB2i"]"Aesthetically, it will look like how it was, we are just trying to maintain the historical significance of Parliament so we are not changing the design in any significant way," the Managing Director of AESL, Louis Atongo said in an interview with Citi News' Umaru Sanda Amadu.
Pictures taken of the old structure will serve as a guide for the construction work, he added. The Sunday demolition paved the way for a new one to be constructed at a cost GHc15 million.
The amount for the new structure is part of the budgetary allocation of GH¢37,816,401 approved by Parliament for the implementation of activities and programmes of the Commission on Human Rights and Administrative Justice (CHRAJ).
Parts of the building, which housed the Citizens Vetting Committee (CVC), the Judgement Debt Commission, the CHRAJ and the Economic and Organised Crime Office (EOCO), was burnt in December 2013, making it unsafe for people to occupy.
Old Parliament building wasn't pulled down
Mr. Atongo also stressed that, it is not the entire Old Parliament building that was demolished, and that only a portion of it was affected by the 2013 fire.
"…that portion got burnt and the structure was so weak and in a deplorable state so there was the need to pull that aspect down and reconstruct so we were consulted by the Commission on Human Rights and Administrative Justice and we have provided both pre and post contract consultancy services."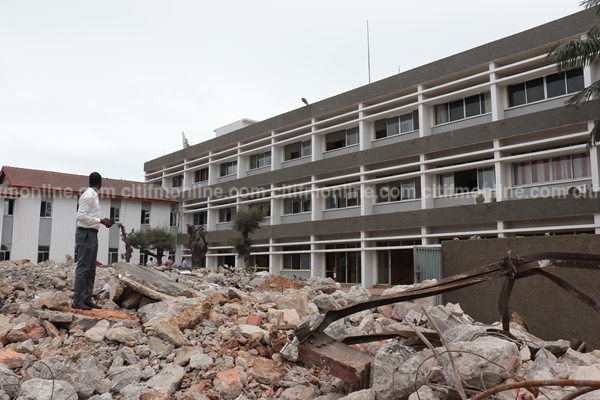 After consultations, AESL advised that the structure was weak and needed to be reconstructed. Per their assessment, it was more prudent to demolish that part of the building and reconstruct from the foundation.
Mr. Atongo noted that, there were other options but "it would have ended up being more expensive and not cost effective."
"It wasn't the Old Parliament building that was pulled down. It was just a small portion of it that housed the Commission on Human Rights and Administrative Justice. But the significant portions of the Old Parliament are still intact," he assured further.
–
By: Delali Adogla-Bessa/citifmonline.com/Ghana