Effective teaching and learning have been hampered at the La Presby Senior High School, as students, including beneficiaries of government's Free SHS policy, are forced to study in uncompleted buildings without marker boards and adequate desks.
The school has recently been in the news for allegedly levying fresh students some amount of money to purchase plastic chairs to be used by the students due to the deplorable state of the existing ones.
The action generated public criticism with many accusing the headmaster, Samuel Salamat, of sabotaging the government's Free SHS policy, but when Citi News visited the school on Monday morning, the situation was indeed dire.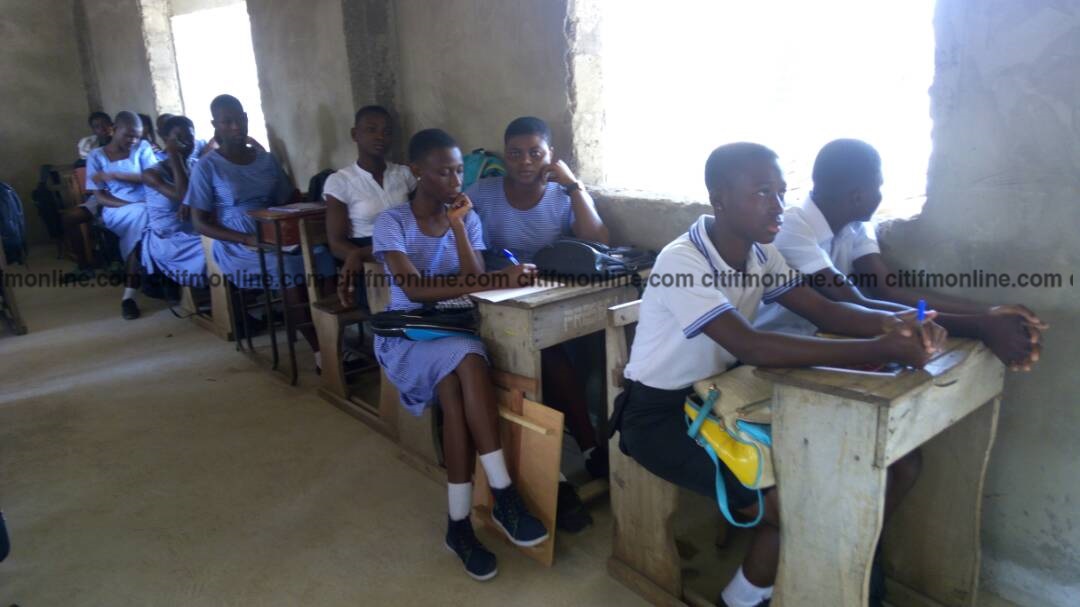 At the first-year's block, about nine classes were without marker boards, teachers therefore improvised, using verbal explanations.
Although school authorities declined to speak about the situation, some students who spoke to Citi News expressed their dissatisfaction and called on authorities to come to their aid.
"So as students when we came, we were expecting to see some blackboards, so that at least when there is no teacher we can try our best to learn… but when we came here, there are no desks, no blackboard, and we are just roaming about like we don't have anything to do. We feel uncomfortable" one student said.
There were very few desks in good shape in use by students, and desks meant for one student was being shared by two students, Citi News' Anass Seidu observed.
One of the students commended the teachers for their efforts despite the difficulty.
He said "the teachers are putting up their best efforts to help us learn, but when it comes to the desk and the school structure, it's very bad. When people come to the school they think it's a village."
The Headmaster of the school, Samuel Salamat, was last week accused of levying all new students GHs 80 threatening that those who refused to pay the money intended for the purchase of plastic chairs would be forced to stand in class.
He was subsequently interdicted by the Ghana Education Service (GES) for charging illegal fees. He failed to turn up for a meeting with the government on the matter.
The GES Director-General, Professor Kwasi Opoku-Amankwa, said his outfit was still conducting investigations into the allegations against Mr Salamat.
Mr. Salamat in an earlier interview with Citi News clarified that the supposed GHs 80 levy was voluntary.
"We have only appealed to parents that we have challenges with furniture so if they can help us repair our furniture so that we can start classes as early as possible. They cannot bring furniture from the house. We are telling them to make voluntary contributions so that we can use that to repair the furniture. It is voluntary, any amount that you can get… It is not a fixed amount. We only gave them the information that last year, parents paid GH80 to guide them."
"If the person is unable to pay, we will still admit them… [But] if the chairs are not there, what can we do? A lot of my furniture is broken down. I have not taken stock to find out the furniture that is available. A lot of my tables and chairs are broken down and I can foresee that we will need more," he said.
–
By: Anass Seidu & Jonas Nyabor/citifmonline.com/Ghana