The Bank of Ghana (BoG) was left with no choice but to revoke the licence of UT Bank and Capital Bank, which were "deeply insolvent."
The two bank's liabilities overwhelmed their assets and the BoG deemed a Purchase and Assumption transaction as the least costly method of dealing with the collapses.
[contextly_sidebar id="TwArHofprmshWEOy2RXNyAEYYMgw1CU4″]The collapsed banks were "unable to develop an acceptable plan", according to the BoG, which indicated in a statement that it made efforts to help UT Bank and Capital Bank recover via private alternatives.
The Central Bank said there were "repeated agreements between the Bank of Ghana and UT Bank and Capital Bank to implement an action plan to address these significant shortfalls."
However, the owners and managers of UT Bank and Capital Bank were unable to increase the capital of the banks to address the insolvency.
Purchase and Assumption agreement allows GCB Bank to take over all deposit liabilities and selected assets of both UT Bank and Capital Bank, per section 123 of the Banks and Specialised Deposit-Taking Institutions (SDIs) Act, 2016 (Act 930).
The BoG in its statement said the GCB Bank took over UT Bank and Capital Bank "as part of efforts to extend their reach and grow their balance sheet to position them to support large transactions in a fast growing economy."
GCB will take over all the depositors' funds and will continue to provide normal banking services to customers and depositors of the two collapsed banks will now become customers of GCB Bank.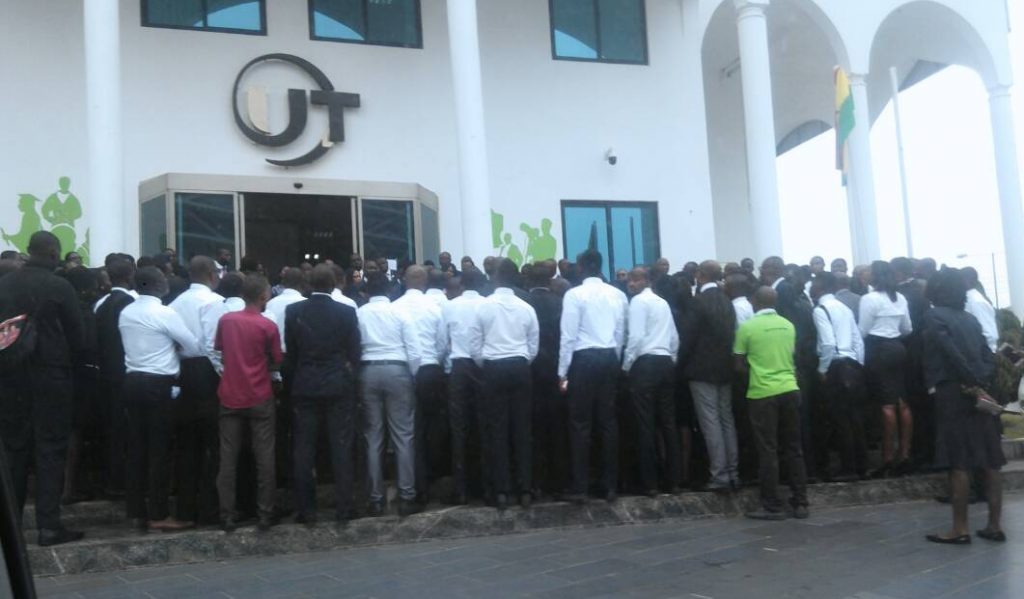 However, on Monday morning when Citi News visited UT Bank's headquarters at Airport and the workers of UT bank were locked out of their offices at the bank's headquarters at Airport.
Some Police officers were also deployed to the branch to prevent any chaotic situation.
Citi News also visited the headquarters of Capital Bank on the Spintex road, where there was an ongoing crunch meeting between the management of Capital Bank and GCB Bank. Banking operations were on hold till later on Monday.
The BoG gave some assurances that the "takeover process would ensure that the impact on employment of staff of UT Bank and Capital Bank are minimized."
The BoG expects GCB Bank to retain some of UT Bank and Capital Bank staff and the Receiver (PwC) will also retain some of the staff.
–
By: Delali Adogla-Bessa/citifmonline.com/Ghana