It has emerged that the management of the Social Security and National Insurance Trust (SSNIT) ignored a caution against backdating payment for the service level agreement for an Operational Business Suit software which has cost the organisation over $ 70 million in two years.
A letter signed by a Senior Corporate Law Officer, Jaezi Orleans-Lindsay cautioned against backdating the payment of $2,000,000 for the software to 2014.
In a correspondence with the General Manager of SSNIT, Mr. Orleans-Lindsay explained that SSNIT will have to pay more for refusing to heed to the advice.
"What it means is that SSNIT will have to pay the annual SLA [Service Level Agreement] fee of US$2,000, 000.00 immediately upon signing the agreement (to cover from September 2014 to September 2015) and pay another US$2,000,000.00 in September this year [2016], when in effect it would have just received about 9 months of service under the SLA instead of the contractual 2 years."
The Lawyer's advice is below: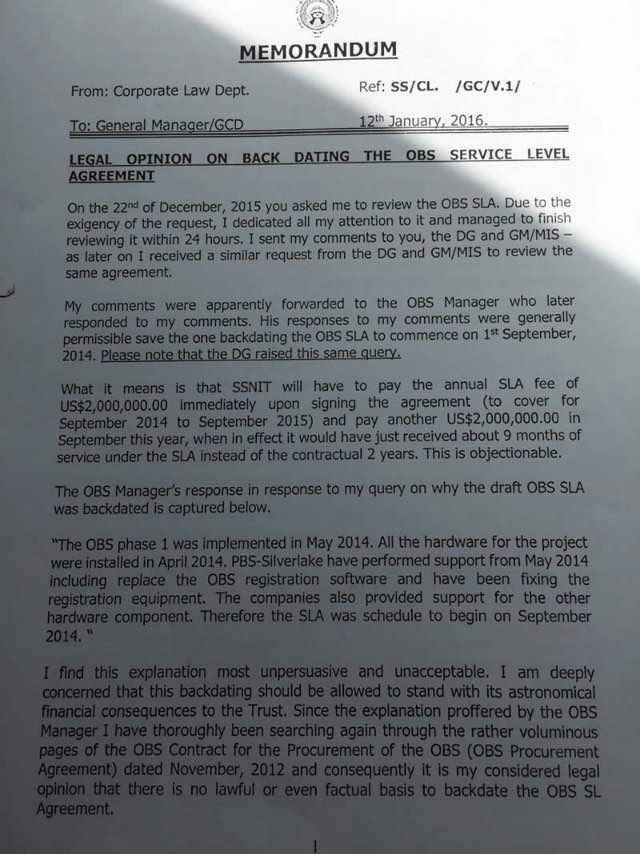 Background
The Board of Trustees of SSNIT has begun investigations into how the former management acquired a OBS software System for $66 million.
The system was installed to network all branches of SSNIT nationwide to enhance efficiency but the current administration questioned the cost and have contracted Price Water house to audit the transaction.
–
By: citifmonline.com/Ghana