Minister for Gender, Children and Social Protection, Otiko Afisah Djaba is on a three-day advocacy tour of the Northern Region against child marriage which is hampering girl child education.
She is to address the Northern Regional House of Chiefs, today (Tuesday) to garner enough support from the traditional authorities to minimize the situation.
She is also expected to visit the Northern Regional Juvenile Correctional Centre.
Otiko Afisah Djaba at the Dakpema and Gulkpegu Naa palaces in Tamale called for a multifaceted approach to tackle the situation.


She emphasized the need for chiefs and the clergy to support government's quest to end child marriage prevalent in the Northern Region.
She cited an increase in illiteracy rate, HIV and other sexually transmitted infections, obstetric fistula, maternal and infant mortalities as some of the dangers associated with the menace.

"Government is doing its part by creating legislations. We expect our chiefs and religious leaders to complement government's efforts by exposing the perpetrators of child marriage so as to safeguard the health and development of our young girls."
"The purpose of my visit is also to explain certain government policies and initiatives to very important stakeholders including the chiefs, religious leaders as well as civil society organisations whose contributions matter a lot in the implementation of such policies and initiatives," she explained.

The chief of Tamale, Naa Dakpema Dawuni Alhassan lauded the minister's campaign and urged government to strictly enforce laws on child marriage.
"Child marriage is a new thing in Dagbon and people who indulge in the practice should be made to face the law."
Naa Dakpema condemned the practice of children roaming on the streets of Tamale Township late at night.
Otiko Afisah Djaba at the Northern Regional Coordinating Council told the regional Minister, Salifu Sa-eed that plans were far advanced to implement the Ghana National Household Registry programme.
"I need the full cooperation and support of all MMDAs in your region to enable my ministry carryout this programme successfully. In every district, we expect the assemblies to provide our staff with office space for the period that they will be working in the districts to gather data and information."
According to her, the Ghana National Household Registry is to establish a single national household register which will capture the data of all beneficiaries' of social protection programs.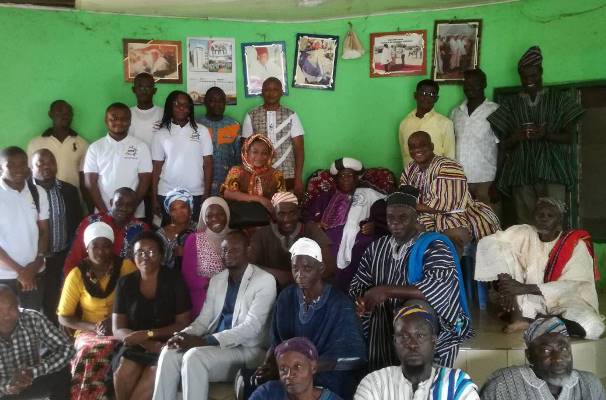 "The programme is funded by the World Bank through a US$9million facility negotiated by the government of Ghana."
According to UNICEF, in Ghana, one out of every five girls is in marriage or in an informal union or cohabitation arrangement.
–
By: Abdul Karim Naatogmah/citifmonline.com/Ghana