Members of the Eastern Regional Security Council at a meeting this week were divided over the location of a fuel station in the Regional capital, Koforidua.
The fuel station (Dukes Petroleum) which is located on the Koforidua Nkurakan main road at Ada close to the municipal office of the Ghana Water Company Limited is sandwiched between more than 22 residential properties serving as home to hundreds of residents.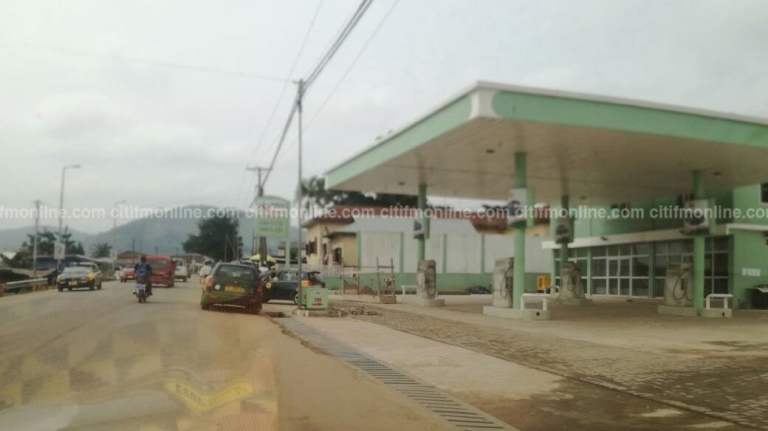 At the 1st ordinary of the 2nd Session of the 7th Assembly of the New Juaben Municipal Assembly with the new Municipal Chief,    Comfort Asante, the assembly members debated furiously on the construction of the filling station.
Some members questioned the competence of the directors at the assembly in the role they played in allowing the said construction of the filling station in the first place.
Iddrisu Abubakari Beewasa, a member of the Assembly called for an immediate revocation of the permit issued to the owner of the filling station, adding "we are all in this country when a naked fire from a domestic user close to the circle filling station caused havoc and damage to properties and lost of lives, and like it happen in La. This will be a bad precedent,  So I am calling on the assembly to  revoke the permit or the property should be used for a different business like a super market or something else."
Other assembly members also argued for the owner of the filling station to start operation because he has already completed the project and has invested heavily in the project.
Another member, Kwaku Ankomah Asare however disagreed saying "I was not a member of the assembly then when the project was approved by the statutory planning committee but I remember at one of the statutory planning meetings I questioned the procedural structures because the owners did most of the construction at night when residents were asleep. I am really against the sighting of that filling station I must say."
The Municipal Chief Executive of the New Juaben Municipal Assembly, Comfort Asante in an interview with Citi News said "I must admit this issue has been a challenge ever since I took office, I wasn't here when the go ahead was given to the owner  but the issue now is at REGSEC so we are all waiting from them."
Close sources within the Regional Security Council (REGSEC)  say they are also equally divided on this same issue.
Meanwhile the Regional Environmental Protection Agency is yet to renew the licence of Dukes Petroleum while the Regional National Fire Service Command is strongly of the view that the area is not suitable for the filling station.
Citi News checks at the location of the filling station revealed that all is set for the owner Dukes Petroleum to start full operation as he has managed to secretly filled underground tanks with fuel, having fixed 4 fuel pumps already.
–
By: Neil Nii Amatey Kanarku/citifmonline.com/Ghana