Move over Amazon CEO Jeff Bezos, you're number two on Instagram.
Well, only if we're measuring bank accounts. Bill Gates joined Instagram on Saturday, making Jeff Bezos not only the second richest person in the world but also on the popular photo sharing platform.
Gates, whose handle is thisisbillgates, joined IG from Tanzania. He shared a couple of pictures, presumably of him doing work on behalf of the Bill and Melinda Gates Foundation.
Bezos recently enjoyed a few hours as the richest man in the world, but Gates quickly regained the title after a small market fluctuation restored what's become the natural order.
Our recent poll showed Gates was overwhelmingly more popular with TNW readers than Bezos: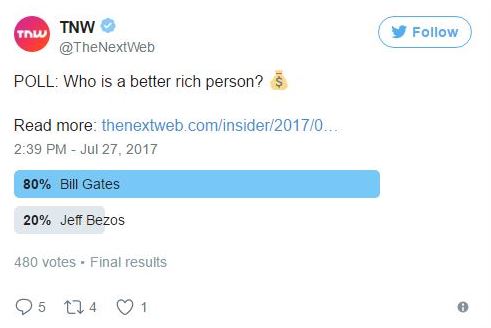 Let's see how long it takes Bill to go from 12.3K followers (at the time of posting) to surpassing Jeff, who currently has 30K after joining three weeks ago.
–
Souce: The next web