A 21-year-old man with a rare genetic disorder was filmed lifting a 152lb tire nearly a dozen times across his Tampa, Florida gym.
The feat is impressive on its own.
But what makes the demonstration even more remarkable is that Nick Santonastasso has a condition known as Hanhart Syndrome.
Hanhart Syndrome is a genetic disorder that affects the growth of limbs in babies, and has a survival rate of only 30 per cent.
The footage, uploaded to YouTube Wednesday, shows Santonastasso lifting the heavy black tire at least nine times, pushing himself to get every rep in at an impressive speed.
Santonastasso claims that he is one of only 12 people that have ever been born with the condition.
'Of those 12, 8 of them are dead,' he says in another video named 'My Life Story' uploaded to his YouTube account.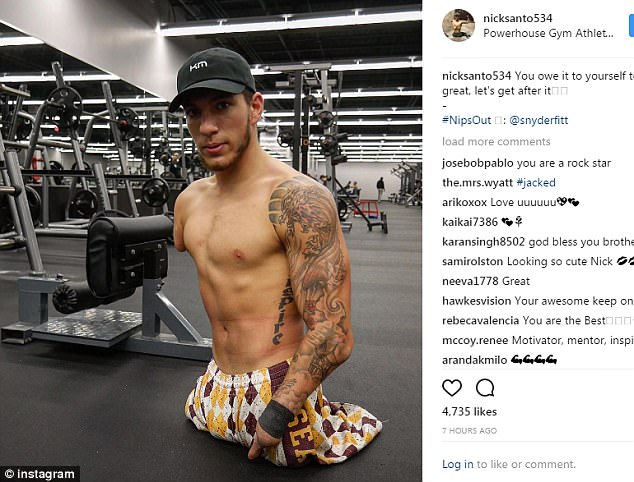 Santonastasso first garnered attention with his prank videos, most notably when he costumed himself as a zombie and frightens Walking Dead star Norman Reedus.
The young athlete's Instagram account is also packed with selfies at the gym, tirelessly working out, strengthening his body, and usually with a smile on his face.
Santonastasso describes himself in his latest video as 'a 21-year-old kid born with Hanhart Syndrome which is a super rare genetic disorder that either leaves babies with undeveloped limbs or undeveloped organs and with a 30 percent chance to live.'
'It only effected my (limbs), my organs are healthy,' he continues.
'I got my early internet notoriety from my pranking videos. I then decided I wanted to become a fitness model, motivational speaker, and a body builder.
'Fast forward to now and that's exactly what we are doing. This is me training with a 152lb tire.'
–
By: Daily Mail UK