Charlotte Osei, the Electoral Commission (EC) Chairperson was a disruptive presence at the EC following her appointment, if statements from the deputy Chairperson of the Commission in-charge of Corporate Services, Georgina Opoku Amankwah are anything to go by.
Tensions within the EC in recent times have seen Mrs. Osei accuse her deputies of making her job difficult for her, but Mrs. Amankwah, in a 25-point response to the EC Chair's claims, alleged that Mrs. Osei's concerns were anchored on lies.
[contextly_sidebar id="Hwty74nAAOX43SF4wAcrz3bYzyo9EW7y"]"The Chairperson's claim that there was a deliberate strategy to frustrate her work and tenure is palpably false and a figment of her own imagination. In fact, the majority of Commission members attended her swearing in ceremony. She was subsequently welcomed to the Commission," Mrs. Amankwah was keen to note in her statement.
Shunning of Chairperson's office, residence
The deputy Chairperson highlighted issues surrounding Mrs. Osei's accommodation and working space which spawned a number of inconveniences in the name of the EC's Chair's comfort.
Mrs. Osei's claim she was not given an office was also noted as false by the Mrs. Amankwah, who explained that Mrs. Osei was offered an office but "strangely, she refused to take up the office claiming that she had a security audit conducted by a security detail from the office of the president indicating that the office was not fit and safe for her occupation."
Mrs. Osei instead "disorganised the whole Human Resources Directorate by choosing the directorate's office as a place of her preference."
This was because this office was closer to her former office as the NCCE Chair, Mrs. Amankwah surmised, adding that renovation made to the office even included a shower cubicle.
"She accordingly instructed the then Director of Human Resources, who was occupying that office, to vacate the office for her use. She thereafter contracted her own artisans to do a completed makeover fitting with a shower cubicle and other facilities thereby rendering our artisans redundant. She also changed the fittings and furniture in the office."
Mrs. Amankwah statements indicated an aversion to spaces and items utilized by Mrs. Osei's predecessor, Kwaku Afari Gyan.
Following her appointment, Charlotte Osei continued to live in NCCE accommodation claiming that "the official residence her predecessor used is not fit for her status."
Mrs. Amankwah indicated that "it was only recently that Mrs. Osei requested for the total refurbishment of the official bungalow." This refurbishment, it was later learned, was to involve the demolition and rebuilding of the entire structure.
Request for new car
Mrs. Osei apparent distaste for logistics used by her predecessor extended to cars, as Mrs. Amankwah also revealed that "she [Charlotte Osei] declared the official vehicle used by her predecessor, a 2014 registered V8 Cruiser procured only a year before her appointments as unfit to use."
The EC Chair allegedly went behind members of the commission to arrange for a brand new 2015 V8 Landcruiser vehicle from the presidency.
"…In addition to this, she reverted the 2014-registered V8 land cruiser for use by her household," Mrs Amankwah added.
Find below shots of the Mrs. Amankwah's 25-point response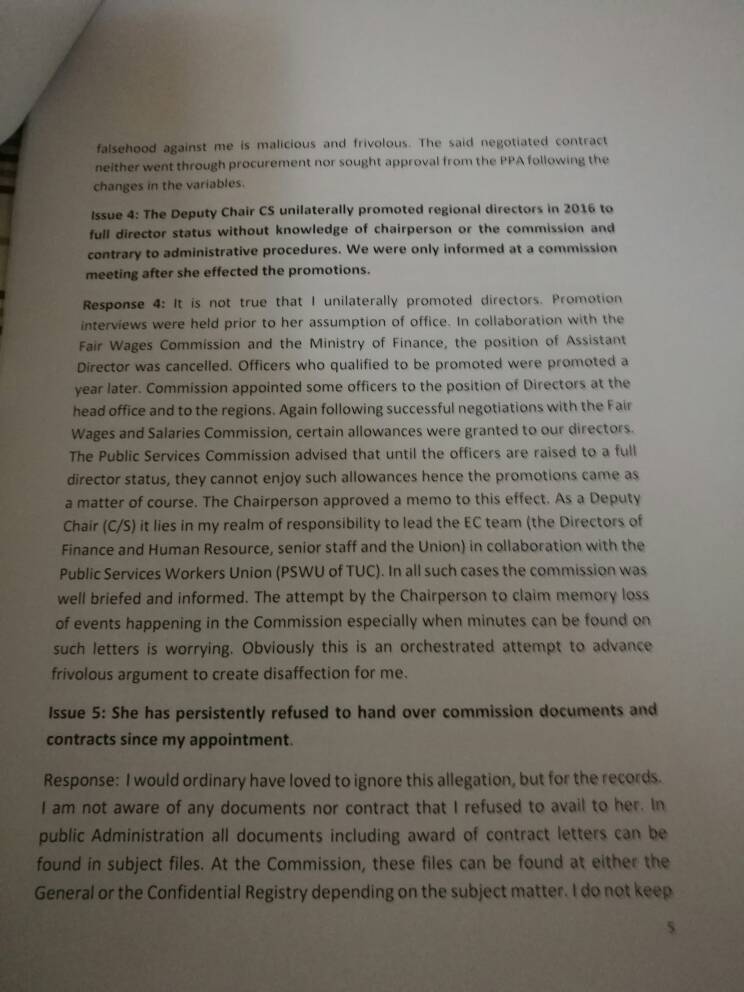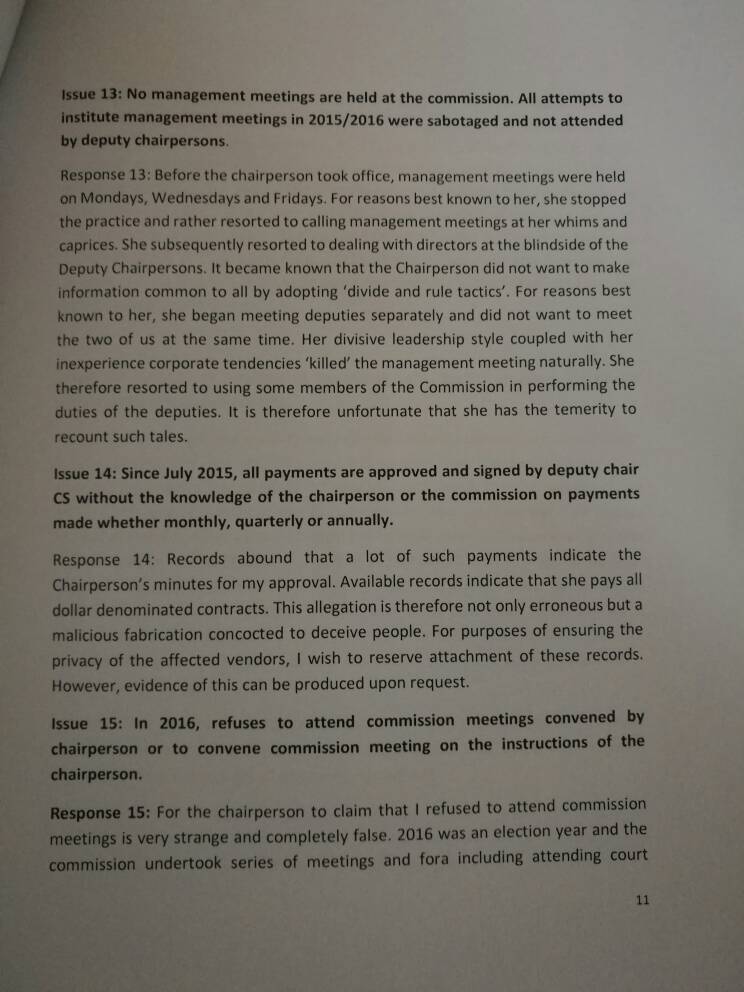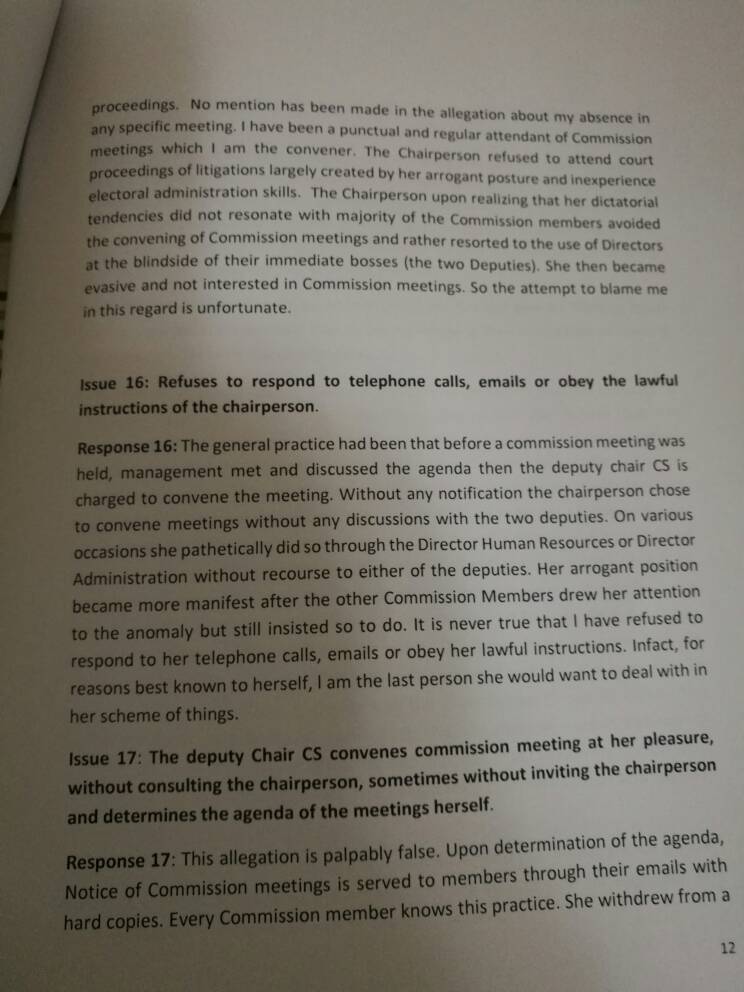 –
By: Delali Adogla-Bessa/citifmonline.com/Ghana