The United Nations Economic Commission for Africa (UNECA), has named Ghana's President, Nana Addo Dankwa Akufo-Addo, as the "AU Gender Champion" for 2017.
President Akufo-Addo was given the award at the opening ceremony of the 29th Ordinary Session of the Assembly of the African Union, which is currently on-going in Addis Ababa, Ethiopia.
While making the announcement, the President of Guinea, Prof. Alpha Condé, who is also the Chairperson of the African Union, explained that the decision taken by UNECA to confer this award on President Akufo-Addo is "in recognition of your efforts in gender equality at continental level."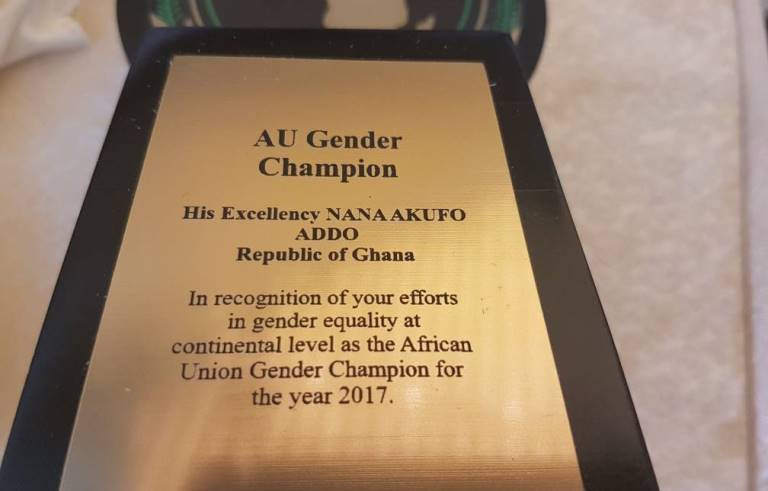 "It was for this reason that UNECA named President Akufo-Addo as the African Union Gender Champion for the year 2017," he added.
President Akufo-Addo had earlier in 2017 been appointed as Chairperson of the AU's Committee on Gender and Development, by the AU Chairperson, President Alpha Condé.
29th AU Summit ongoing
President Akufo-Addo is currently participating in the AU meeting of Heads of State, which is taking place under the theme, "Harnessing the Demographic Dividend through Investment in the Youth."
Issues being discussed include: institutional reforms of the AU; roadmap of practical steps to silence guns in Africa by 2020; the Continental Free Trade Area (CFTA); and the implementation of Agenda 2063 – "The strategic framework for the socio-economic transformation of the continent over the next 50 years".
It will be recalled that at the 28th AU Summit, African leaders signed up to the Continental Free Trade Area (CFTA) agreement, whose purpose is ensure significant growth of Intra-Africa trade, as well as assisting countries on the continent use trade more effectively as an engine of growth and for sustainable development.
The CFTA will, amongst others, reduce the vulnerability of the continent to external shocks, and will also enhance the participation of Africa in global trade as a respectable partner, thereby reducing the continent's dependence on foreign aid and external borrowing.
That meeting also agreed on new, adequate, predictable and sustainable ways of financing the African Union, so as to be able to achieve its desired objectives.
The African leaders present agreed that the constant resort to external funding means that the AU would be susceptible to external influences. Self-sustaining mechanisms, they said, have to be developed to demonstrate Africa's commitment to its regional objectives and agenda.
Also, the Heads of State considered proposals from the AU Reforms Committee, headed by President Paul Kagame of Rwanda, aimed at reforming the continental body, so as to make it more relevant to the needs and aspirations of the African peoples.
Akufo-Addo appointed 36 women as MMDCEs, 9 ministers
President Akufo-Addo after taking office on January 7, 2017 appointed 36 women for the position of Metropolitan Municipal and District Chief Executives.
He also appointed nine women for ministerial roles.
Akufo-Addo's Chief of Staff as well as the newly appointed Chief Justice of Ghana are all women.
–
By: citifmonline.com/Ghana with additional files from Flagstaff House