The American government says it is committed to double its trade volumes with Ghana via continuous investments to add value to Ghana's exports.
The US Ambassador to Ghana, Robert Jackson explains that this should increase Ghana's trade volume with the US from the current 1.2 billion dollars to 2.4 billion dollars.
Mr. Jackson made the remarks at a ceremony to commemorate USA's 241st Independence Celebration in Accra on Thursday, June 29th, 2017.
"What I want to do is building on what we are already doing in our agro- industry; see a lot more processed goods being exported into the US. So rather than see more raw cashew, cocoa and mangoes, we are seeing finished products being exported to the United States and I believe there is enormous potential to see Ghana's exports increase. That will create more jobs which will also result in more American investments here in Ghana," he stated.
Already, Ghana is benefiting from the African Growth and Opportunity Act (AGOA) in its agricultural sector.
Ambassador Jackson also believes efforts to tap into the potential of Ghana's textile industry should triple textile exports within the next few years.
 "There is also great opportunity in the textile sector. I believe that Ghana's textile export to the United States could easily triple within two to three years."
The event also marked 60 years of bilateral relationship between the US and Ghana.
Speaking at the same event, Finance Minister, Ken Ofori Atta was highly confident policies to diversify the economy and improved oil production should also increase Ghana's trade volumes with the US within the short to medium term.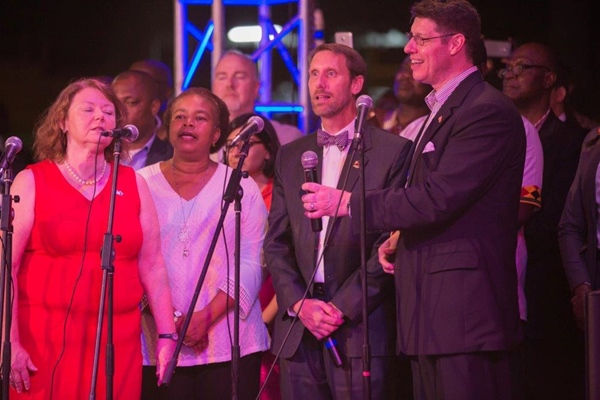 "What we have seen since 2012 is that we have gotten a positive trade balance of over 2.8 billion dollars since that period and our expectation is that we will continue to increase that.
"I think with the diversification of the economy for more value added products, that should increase and with the new finds in oil, that should also help that," Mr. Ofori Atta remarked.
In attendance were key state institutions both in Ghana and the US.
Also present were invited guests and dignitaries in media, business, academia among others.
–
By: Pius Amihere Eduku/citibusinessnews.com/Ghana