The apology from Gender Minister, Otiko Afisa Djaba, and the Northern Regional Chairman of the New Patriotic Party (NPP), Daniel Bugri Naabu, should not be accepted by Ghanaians, according to the National Democratic Congress (NDC).
Speaking to Citi News, the NDC's Deputy General Secretary, Koku Anyidoho, said, "Ghana is bigger than the NPP, so their internal apology means nothing to the larger Ghanaian populace…"
He said the NPP could swoop in and pretend on the matter, but urged Ghanaians not to accept "the lame apologies from within the belly of the elephant."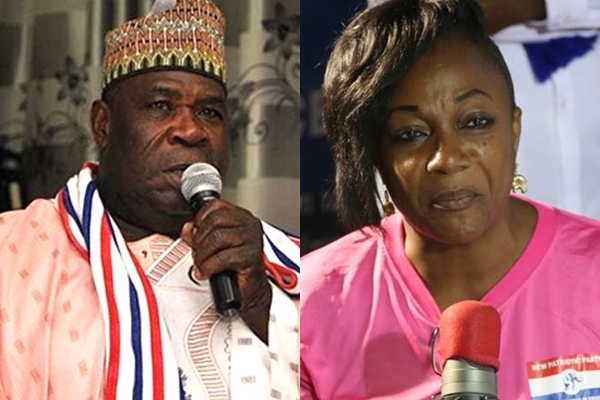 His comments follow a directive by the National Council of the NPP for Bugri Naabu and Otiko Djaba to apologize with written letters, after their public spat which birthed claims that the Upper East Regional Minister, Rockson Bukari, was involved in the murder the late Upper East Regional Chairman of the NPP, Adams Mahama.
The National Council also directed all party officials serving in government to resign as soon as possible.
But Mr. Anyidoho said the country would be better served by President Nana Akufo-Addo forcing Otiko Djaba to resign from government, warning that "these utterances from his officials are the beginning of the end of his government."
He however said President Akufo-Addo "will not have the courage to do so – mark my words."
NPP trying to bury murder claims
Mr. Anyidoho also said the NPP was by this action covering up the allegations pertinent to the case involving the murder of Adams Mahama.
He questioned why "the Ghana Bar Association is dead silent on such a serious issue as Bugri Naabu pointing fingers at Otiko Djaba and Rockson Bukari for being complicit in the murder of Chairman Adams."
"So the NPP can decide to pull a veil over the unfortunate, vulgar and dangerous utterances of Otiko Djaba and Bugri Naabu, but it does not stop Ghanaians from discussing the issues and will not stop the NDC from firing the right arrows and continuing to raise these issues till we get a proper conclusion of these matters."
"Let us look up, ask the solid questions and demand answers. We will not accept this kind of thing from the NPP," the NDC executive stated.
NPP stands by decision
The NPP has however stood by its directives, with the National Youth Organizer of the party, Sammy Awuku saying that the party took the best decision in sanctioning the two officers.
"It is not just an apology. They have been bonded, and it is no joke if you are bonded by the National Council in an indefinite manner because, at any point in time, when the national council feels you have gone against this bond, you might attract serious sanctions from the National Council."
–
By: Delali Adogla-Bessa/citifmonline.com/Ghana