Social commentator, Sydney Casely Hayford, believes the Gender Minister, Otiko Afisa Djaba, and the Northern Regional Chairman of the New Patriotic Party (NPP), Daniel Bugri Naabu should have been dismissed for their recent public spat.
Speaking on The Big Issue on Citi FM,  Mr. Casely Hayford said their war of words disgraced the authority vested in them, as they exhibited gross indiscipline.
He opined that, if the NPP "had a strong enough backbone. If they were sure of themselves and secure in the way they handled affairs, those two should have been dismissed. With Bugri, it will be a little difficult because he is elected, but to remove Otiko as a minister would not be difficult."
Instead, as part of the fall out of the public fracas between Madam Otiko and Bugri Naabu, the National Council of the NPP directed all party officials serving in government to resign. Madam Otiko and Bugri Naabu were also ordered to apologize officially with written letters.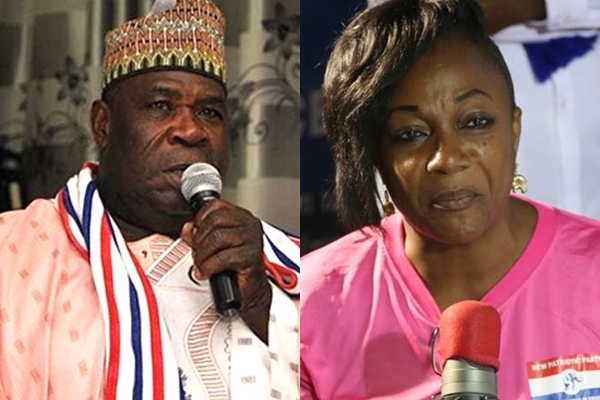 Among other things, their back and forth saw Bugri Naabu allege that the Upper East Regional Minister, Rockson Bukari, and Otiko Djaba, were involved in the murder the late Upper East Regional Chairman of the NPP, Adams Mahama.
The genesis of the tension, as we know, could be traced to the confusion at Modern City hotel in Tamale, where Bugri Naabu stormed and disrupted a meeting organised by Madam Otiko for some women, after an alleged dispute over the appointment of a Northern Regional Coordinator for the School Feeding Programme.
Ghana deserves better brand of politicians
Mr. Casely Hayford remained befuddled by the way the spat between the two NPP executives escalated, describing it as childish and ultimately an erosion of the offices they held.
"We are trying to create a certain quality of politician who will go into Parliament or be in a ministerial position where we will respect what they say and believe what they say. What this has done is to discredit them and discredit the whole political class because all that we are seeing now is childish behaviour."
"I can't for the life of me understand why two such prominent politicians in this country who expect to be respected for what they do, and expect us to listen to them, should go about saying such things about each other in public. These are a pair of very undisciplined persons. Even if you have something to say about that person, you should not do it on air. This was like a Montie three thing."
–
By: Delali Adogla-Bessa/citifmonline.com/Ghana