Owners of Coconut Grove Regency Hotel have explained that the inferno that engulfed the facility was sparked by fire from an air-conditioning facility at Amansan Television (ATV) which shares a compound with the hotel.
The hotel, owned by businessman and the 2016 flagbearer of the Progressive People's Party, Dr. Papa Kwesi Nduom was gutted by fire on Saturday evening.
"Somewhere between 5.00 and 5.30pm…staff of Amansan Television (ATV) noticed fire burning apparently from the direction of an air conditioning unit in their studio.  When alarm, was raised, everyone ran to safety and an urgent call was made to the Ghana Fire Service to come and help put out the fire," a statement signed by Richmond Keelson from the Corporate Affairs department of Groupe Nduom stated.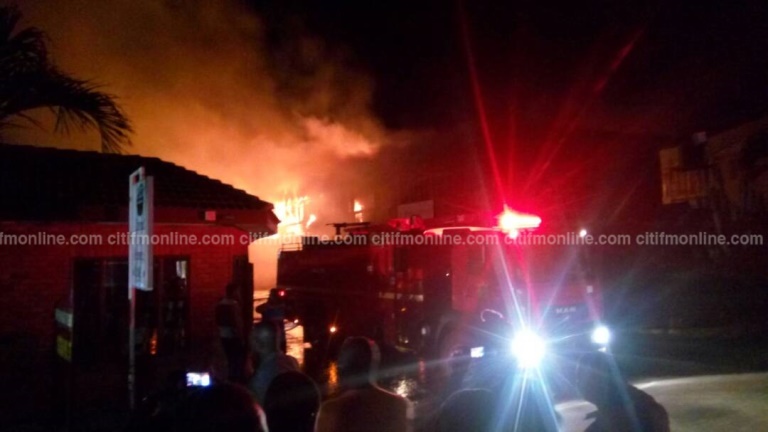 The statement added that two fire tenders were quickly deployed to the place by the Fire Service while additional three followed suit.
The statement noted that the fire spread to other offices on the same block on which ATV was, adding that "the ATV studio and four commercial offices of Groupe Nduom are on the same block."
Guest rooms, restaurant at Coconut grove intact
After hours of battling the inferno, the Fire Service personnel were able to put the fire under control.
Meanwhile, the statement assured that the restaurant, conference facilities and guest rooms were not affected by the fire.
"It is important to note that the Regency Hotel and its restaurant, guest rooms and conference facilities are intact and were not touched by the fire."
12 tenders deployed
The Deputy Public Relations Officer for the Ghana National Fire Service, Prince Billy Anaglatey told the media that no casualties were recorded.
He noted that a total of 12 fire tenders were deployed to the place to contain the fire. Mr. Anaglatey also disputed claims that the tenders were without water.
Interior Minister arrives at hotel
The Minister of Interior, Ambrose Dery who was also at the place told the media that the President has been briefed on the matter.
Mr. Dery said he expects a full scale investigation and a report to provide guidance on how to effectively tackle such fires in the future.
–
By: Godwin Akweiteh Allotey/citifmonline.com/Ghana
Follow @AlloteyGodwin