The walkway under the Old Achimota overhead appears to have been converted into a dumping site with heaps of refuse almost spilling over onto the road.
Street sweepers under the Zoomlion National Youth Employment Programme module, are also along with pedestrians and residents, contributing to the refuse heaped there.
The sweepers who interacted with Citi News at the Old Achimota walkway indicated that, they have been instructed by their bosses to dump the refuse they collect on the pavement for collection later on.
Organic waste generated from homes and inorganic waste are all dumped on the pavement.
The situation was the same at Lapaz where the Zoomlion sweepers claimed that their bosses told them to pile the refuse on the pavement for collection.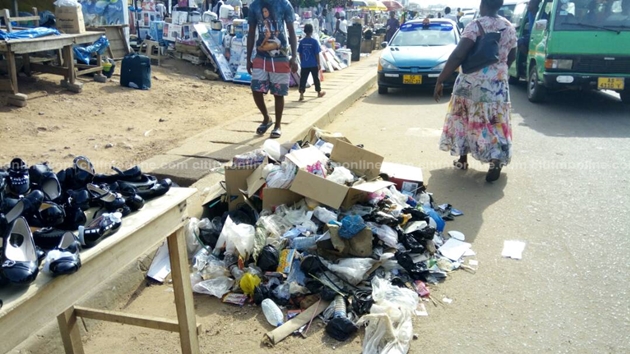 One of the sweepers suggested to Citi News that, the delay in collecting the refuse might be due to faulty trucks.
Some hawkers on the pavement at the Old Achimota walkway complained that the refuse there often lasts for almost a month before Zoomlion trucks come for collection.
But one of the Zoomlion sweepers, who spoke to Citi News, said the rubbish did not remain under the walkway for about a month as was alleged, but was usually collected after two weeks.
The sweeper admitted that, refuse heaped under the walkway was worrying, but said there was nowhere else for them to dump the rubbish.
She further revealed to Citi News that she and her colleagues have not been paid their GhC100.00 monthly salary since January. She lamented that life for her as a widow is very difficult and called on authorities of Zoomlion to pay them soon.
–
By: Caleb Kudah/Godwin Allotey/citifmonline.com/Ghana