The Chief of Defence Staff, Major General Obed Akwa, has donated military training boots and uniforms to Mpraeso Senior High School at Kwahu Mpraeso in the Eastern Region.
The items; 60 pairs of military training boots and 60 set of uniforms are to support the school's cadet.
The Chief of Defence Staff, who is the current board chairman of the school, also happens to be a former school prefect of the school in 1973.
In a short presentation ceremony held at the school, Major General Obed Akwa challenged members of the school's cadet corps to strive for the best in all their endeavours, saying "success is not achieved by being lazy, success can only be attained at the highest level so you should always strive for the best in everything you do while you are in school and also till you leave."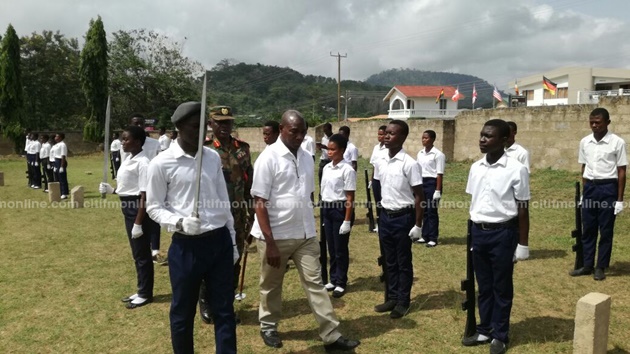 He then advised them to be of good character and hardworking "I did not get to where I am today being stubborn or disrespectful, I have also comported and carried myself well, I respect everyone I come into contact with whether young or old. My advice to you is for you all to be discipline and respect authority and when you do this and you work hard you will be proud of yourselves in the future".
The Eastern Regional Minister, Hon Eric Kwakye Daffour, who happens to be on a working visit with the Eastern Regional Director of Education, Mrs Gertrude Mensah at the time of the short ceremony, presented the items to the headmaster of the School, and then inspected a parade which was organized by the school's cadet in honour of the Chief of Defence Staff.
The headmaster of the School, Mr John Biantey, who received the items, thanked the Chief of Defence Staff for his generosity and assured him of proper usage of the items.
–
By: Neil Nii Amatey Kanarku/citifmonline.com/Ghana