The Jamong and Jafog Bimoba clans in the Bunkprugu/Yunyoo District of the Northern Region, have renewed their commitment to peaceful coexistence.
The two clans in the past gained media prominence because of bloody clashes which resulted in several deaths, casualties and destruction of property worth millions of cedis.
As part of steps adopted to end the age-long protracted land dispute, some concerned youth from the two clans in 2016 jointly formed a Peace and Unity Council to cement their relationship.
Addressing the first anniversary of the Peace and Unity Council on Monday April 2017, Northern Regional Minister, Salifu Saeed, commended the two clans for smoking the peace pipe.
He reiterated government's commitment to develop the area to an appreciable level and urged residents there to shun warmongers.
He invited development partners to liaise with the Bunkprugu/Yunyoo district assembly to uplift the area's image.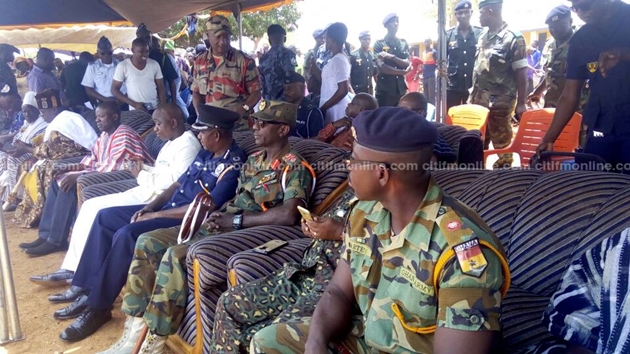 He described poverty as the people's common enemy, which required a multifaceted approach to deal with.
He assured them of the Regional Security Council in consultation with the Interior Ministry's resolve to relax the curfew imposed on the area upon the traditional authorities request.
Salifu Saeed admonished the chiefs and people of Dagbon, Nanung and other hotspots in the Northern Region, to emulate the Jamong and Jafog clans' peaceful coexistence.
By way of boosting the Bunkprugu Member of Parliament, Solomon Boa's efforts, the Regional Minister on behalf of President Nana Addo Dankwa Akufo Addo donated 50 packets of roofing sheets and Ghc5,000 cash to victims of the last clashes.
The Bunkprugu  legislator who doubles as Deputy Northern Regional Minister, Hon. Solomon Boa, touted the theme of the Anniversary, "Bloody burial" as a sigh of relief.
He commended the Jamong and Jafog clans' headship for the initiative and pledged his support to sustain it. Mr. Boa assured his constituents of unprecedented development under the watch of President Nana Addo Dankwa Akufo-Addo.
Representatives of the Jamong and Jafog clans declared zero tolerance for renewed clashes in their localities.  Chairman of the Peace and Unity Council, Moisob Emmanuel, bemoaned some of their family relations' exile in neighbouring Togo as a result of the past clashes.
He thanked his kinsmen for adopting dialogue as the panacea to resolving their differences.
–
By: Abdul Karim Naatogmah/citifmonline.com/Ghana