A Kumasi Circuit Court presided over by Justice Ekow Mensah, has fined the 13 Delta Force members 200 penalty units, which translates into GHc2,400 or in default spend three years in prison for escaping from the court after they were remanded.
They are also to sign a bond of good behavior and live that behaviour for a period of six months or in default serve two years jail term.
[contextly_sidebar id="PhnyUkvG16eGLnl5JjuV5vniH84U0QQI"]The 13 Delta Force members were facing charges of conspiracy to assault for raiding the Ashanti Regional Coordinating Council and assaulting the Regional Security Coordinator because they were against his appointment.
They were last week freed by some members of the vigilante group in open court, after the presiding judge remanded the 13 to police custody.
About eight of those who caused the confusion at the court were arrested, while the 13 fugitives subsequently turned themselves into the police.
Forgive them
Lawyer for the 13 Delta Force members, Gary Nimako Marfo, pleaded guilty to the offence of escaping or permitting themselves to be rescued from lawful custody.
Gary Nimako further pleaded that, the 13 are first time offenders, and that they voluntarily reported themselves to the police later that day.
The substantive case has however been slated for April 20, 2017. Meanwhile, the 13 are supposed to be on remand until the case is heard.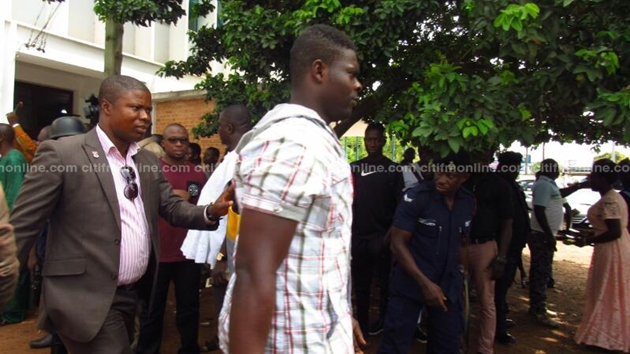 8 Delta Force members remanded over court raid
The eight Delta Force members arrested for allegedly sparking the confusion at the Kumasi Circuit Court, leading to the escape of 13 of their own, were on Monday remanded and are to reappear before the court on April 18, 2017.
Lawyers for the remanded Delta Force members had argued that the case was bailable, but the bail plea was turned down by the presiding judge.
The eight have been charged with disturbing a court session, for resisting arrest, and freeing the 13 persons who were in lawful custody.
–
By: Lauretta Timah/citifmonline.com/Ghana