President Nana Addo's decision to appoint some 110 Ministers including deputies and regional ministers, has generated mixed reactions among Ghanaians who are mostly outraged by the move.
The President today [Wednesday], named 54 persons to serve as Ministers of State at the presidency/ministries, and deputy ministers  in his government, bringing to 110, the number of ministers who will be serving under his administration.
This is the highest number of appointees any government has had since the fourth Republic.
Some Ghanaians who could not hide their frustration about the move, took to social media, particularly Twitter and Facebook, to express their concerns.
Many suggested that the President in most cases was rewarding party loyalty by giving out positions, instead of having in mind the larger national interest.
Below are samples of social media reactions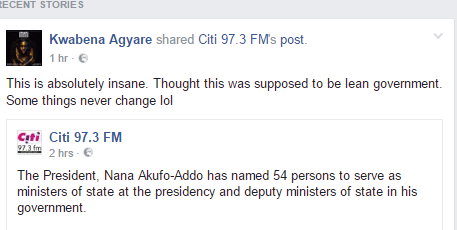 The view generally is that, the move will only burden the public purse considering that, aside the salaries and benefits, all these officials will retire with huge amounts as ex-gratia.
Information Minister Mustapha Hamid, has said Nana Addo did not any point promise a lean government, urging Ghanaians to judge them by efficiency and not the size of the government.
–
By: Marian Ansah/citifmonline.com/Ghana
Follow @EfeAnsah