Samsung's latest flagship phones have ditched the physical home button found in their predecessors and introduced a new virtual assistant.
The screens of the Galaxy S8 and bigger S8+ are also larger despite the devices being about the same size as last year's S7 and S7 Edge.
This time, both models feature displays that curve round the phones' sides.
The launch follows Samsung's botched release of the Note 7, which was recalled twice after fires.
The South Korean firm blamed the problem on battery faults and said it had since put in additional safety measures, including X-ray scans of batteries.
The company has also become mired in a corruption scandal in its home country.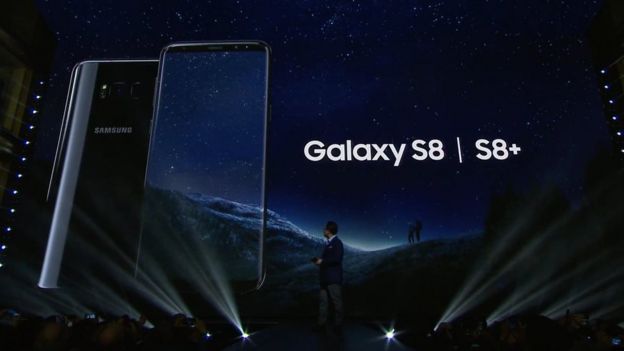 "The Galaxy S8 is arguably the most important launch of the last 10 years for Samsung and every aspect will be under the microscope following the Note 7 recall," commented Ben Wood from the CCS tech consultancy.
"The S8 is a unquestionably a strong product but Samsung must now deliver a faultless launch to move on from its earlier difficulties. If this happens it will emerge in an even stronger position."
The new devices will be released on 21 April.
The S8 is priced at £690 and the S8+ at £780 – a jump on last year's entry prices of £569 for the S7 and £639 for the S7 Edge.
Samsung was the bestselling handset manufacturer for 2016 as a whole, according to market research firm IDC.
However, Apple overtook it in the final three months.
| Manufacturer | 2016 handset shipments | Year-on-year change | Market share |
| --- | --- | --- | --- |
| Samsung | 311.4 million | -3% | 21% |
| Apple | 215.4 million | -7% | 15% |
| Huawei | 139.3 million | 30% | 9% |
| Oppo | 99.8 million | 134% | 7% |
| Vivo | 77.3 million | 103% | 5% |
| LG | 55.3 million | -7% | 4% |