The US authorities have rolled back a controversial travel ban on people from seven mainly Muslim countries after a judge suspended it.
The state department said it was reversing the cancellation of visas, 60,000 of which were revoked after President Donald Trump's order.
Judge James Robart ruled there were legal grounds to challenge the ban.
Mr Trump reacted furiously, calling Mr Robart's ruling "ridiculous" and vowing to restore his ban.
People affected by the ban treated news of the suspension warily as airlines began allowing them to board flights to America on Saturday.
---
'Don't degrade us'
Dr Samuel Jacob, of the University of Pittsburgh Medical Center, was born in Syria. His Syrian wife has been unable to join him.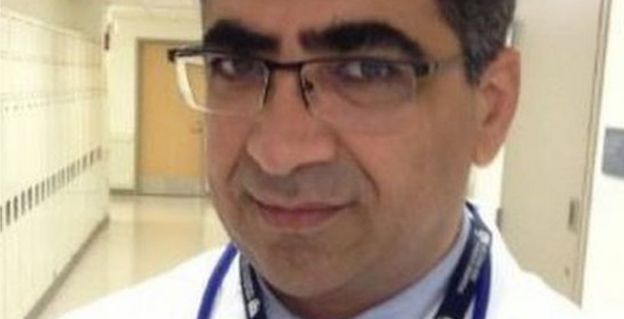 "I am going to meet with my attorney on Tuesday and he will know the latest information about whether my wife can try to come.
"It's hard to really understand the detail of this ruling without speaking to my lawyer and so I can't make a decision about what we can do until then.
"I live and work hard every day in the US to serve everybody and save lives but at the end of the day I still get classified by the government as simply an "x" or a "y" and treated accordingly.
"I work hard for the US and I expect the USA to help me and protect me and let me be with my family, not be degraded in this way."
---
The ban's implementation was halted with immediate effect by Judge Robart's ruling, in which he found that legal challenges to the ban launched by two states, Washington and Minnesota, were likely to succeed.
Homeland Security Department employees were told by the department to comply with the ruling immediately.
Customs officials told airlines that they could resume boarding banned travellers. Within hours, Qatar Airways said it would do so, followed by Air France, Etihad Airways, Lufthansa and others.
"The opinion of this so-called judge, which essentially takes law-enforcement away from our country, is ridiculous and will be overturned!" Mr Trump said on Twitter.
"When a country is no longer able to say who can, and who cannot , come in & out, especially for reasons of safety & security – big trouble!" he tweeted separately.
The US administration argues that his executive order last week, which caused confusion and anger, is designed to protect the US.
It is expected to seek an emergency stay that would restore the restrictions.
'We made it'
"I am very happy that we are going to travel today," Fuad Sharef, an Iraqi with an immigration visa who was prevented along with his family from boarding a flight to New York a week ago, told Reuters news agency from Irbil on Saturday. "Finally, we made it."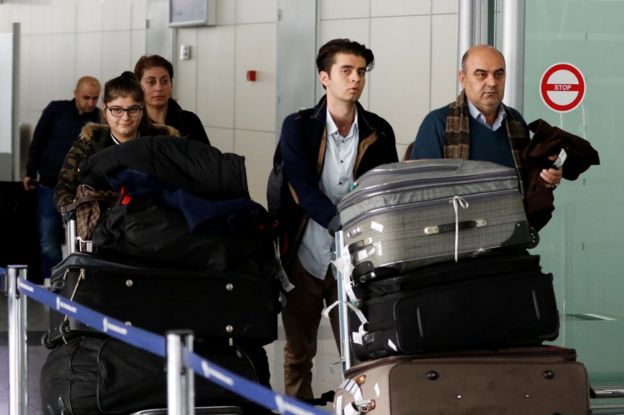 A cardiologist training in the US, who wished to remain anonymous, told BBC News his Syrian wife had recently joined him but people in her situation would not "take the risk of leaving the country in case things change back again".
Among those expected to travel soon is an Iranian infant with a heart defect who had been due to undergo life-saving surgery in the US.
The family of four-month-old Fatemeh Reshad flew her to Dubai last week to get a visa to enter the US, but this was denied under Mr Trump's ban.
The girl will now be allowed into the country and doctors have pledged to treat her for free, New York Governor Andrew Cuomo said late on Friday.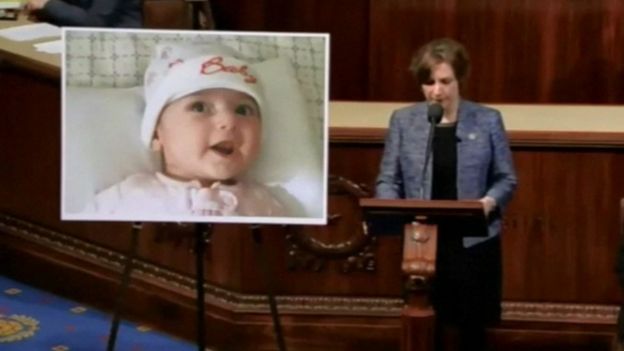 Mr Trump's order imposed an indefinite ban on Syrian refugees. Anyone arriving from Iraq, Syria, Iran, Libya, Somalia, Sudan or Yemen faces a 90-day visa suspension.
Washington state Attorney General Bob Ferguson described the move as unconstitutional.
"Folks who had visas, folks who were allowed to travel were denied that right without any due process whatsoever – that's un-American and unconstitutional," he said in a BBC interview.
Courts in at least four other states – Virginia, New York, Massachusetts and Michigan – are hearing cases challenging Mr Trump's executive order.
In London, protesters converged on the US embassy in Grosvenor Square on Saturday to vent their anger over the travel ban.
–
Source: BBC