The Eastern Regional police command has arrested six people for robbery in the New Juaben municipality.
The six were on February 11 arrested by the Effiduase Police Command for robbing some residents of their laptops and flat screen televisions.
At a media briefing held at the regional police headquarters in Koforidua, Acp Alhaji Nuhu Jango the Eastern Regional Deputy Police Commander said "the police command has identified some criminal hideouts and notorious drinking and narcotics drug smoking spot called "Evelyn Spot" a popular joint in the municipality and on February 11th 2017, at 12:05 am the regional patrol team led by ASP George Mills proceeded to the Evelyn Spot where eight (8) young men were spotted smoking substances suspected to be marijuana, the 8 sensing danger took to their heels but the police managed to arrest three suspects Emmanuel Amoah aged 23, Twumasi Samuel 30 and Kwasi Sokpo 25 were found with pair of scissors concealed in their pockets which was intended to be used to rob unsuspecting victims of their mobile phones and other valuables."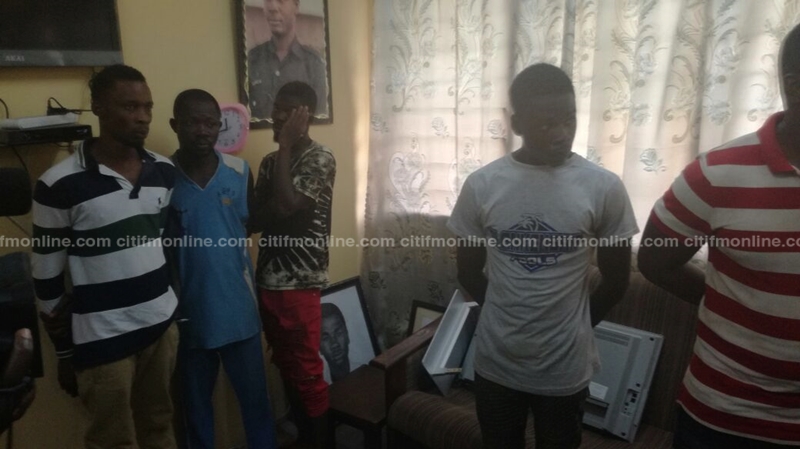 He added "on the same date at about 10am the Effiduase Police District Command received a report to the effect that a house located at Asokorekuma has been attacked by three masked armed men who made away with four (4) HP laptops valued at GHC 1,500.00 each, 1 Motorola mobile phone valued at GHC 300.00, 1 CCIT mobile phone valued at GHC 400.00, 1 Motorola S mobile phone also valued at GHC 600.00, a Multi-TV decoder valued at GHC 200.00, one 42 inches LG plasma television valued at GHC 2,500.00 and cash sum of GHC 500.00."
"Police upon receiving the information hurriedly started investigations where intelligence gathered left to the arrest of suspects Daniel Bekoe 29, a computer technician at Pentuawala a suburb of Koforidua. A search conducted in his shop revealed 2 HP laptops that were robbed from the houses together with seven other laptops all suspected to have been stolen, during interrogations, suspect Daniel Bekoe mentioned suspect Divine Modzaka aged 27 as the person who brought the two laptops for decoding of the password. The command proceeded and arrested Divine Modzaka at his phone shop also at Pentuawala and retrieved one Motorola mobile phone which was robbed from the scene at his shop, he corporated with the police and mention one suspect Richard Obeng aged 20, now at large as the one who brought the laptops to him to be decoded."
The Deputy commander has advised the public to help the police with information on Richard Obeng 20 years old taxi driver in charge of an Opel Caravan with registration number no GT 4869-V who is now at large.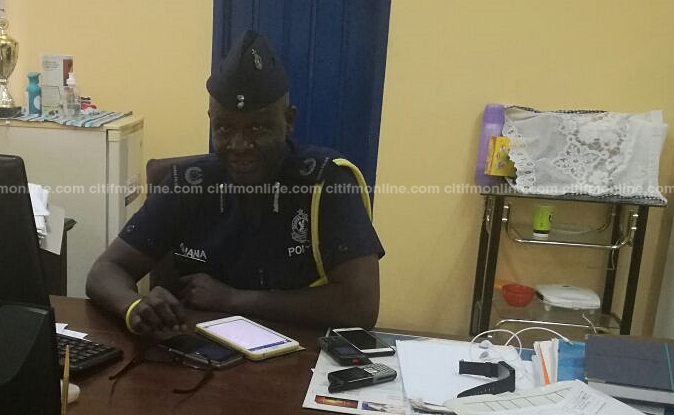 ACP Nuhu Jango added that the regional command is reintroducing foot patrols and will intensify day and night patrols to help curb criminal activities in the Region
He also advised the general public to be security conscious and report any strangers they suspect or see loitering in their neighbourhood to the police, he said "armed robbers like operating in the dark so we should always switch on lights in an around our homes and also do not try to argue with robbers when they enter your house, give out what ever they ask so that the spare your lives but try and picture them well and get something you can identify on them, also prompt and report strange looking person you see in your neighbourhood to the police."
–
By: Neil Nii Amatey Kanarku/citifmonline.com/Ghana