Mr. Francis Mensah, an electronics dealer at Osu in Accra, dashed the hopes of over 1,000 shoppers fervently hoping to drive home the Chevrolet saloon car at stake in the just-ended West Hills Mall Festive Sparkle Promotion when his shopping coupon was picked as the winner of the grand prize.
Launched on November 4, 2016, the West Hills Mall loyalty reward promo required shoppers to spend a minimum of Ghc 150 to get a personal shopping booklets stamped. After a total of eight stamps, the booklets were dropped into a central entry box, ready for the draw. By December 23, 2016 when the promo closed, a total of 1,030 entries had been received and a public draw was conducted on Friday December 30 under National Lottery Authority supervision.
The Mall lined up an enticing range of gift items comprising lofty shopping vouchers for all the shops in the mall and cash rewards of up to Ghc 5,000. However, it was the grand prize – a brand new Ghc 46,000.00 Chevrolet Spark Lite saloon car teasingly displayed at the foyer of the Mall since November – which was the centre of attraction and the target of most shoppers who participated in the promo.
Days after the car was displayed, a lady shopper and regular patron of the mall caused a hilarious stir when she publicly predicted that it would be her, and no one else, driving home the car. Miss Abayie, a commercial florist living Dansoman, said she 'shopped, dined and wined' at West Hills Mall with her boyfriend, at least twice every week and had participated in every major promotion at the mall.
As it turned out, the eventual winner, 35 year old Francis Mensah, came all the way from Osu, on the east side of town and although he is a regular patron of West Hills Mall, he participated with much fewer entries than many others.
"Me and brothers (my friends) from Osu went to West Hills Mall on December 23 to do some last-minute Christmas shopping and have some fun there. I bought a stove, an electric iron, a kitchen blender and some provisions. In all I spent just a little less than Ghc200. I dropped the coupon in the box and never thought about it again until I received a phone call from the people," said an overjoyed Mensah.
He said on Friday, December 30, he was in Koforidua in the Eastern Region when someone called his number and told him that he had won the car in the West Hills Promo draw but he took the call for a prank or a scam and so ignored it. He said when a few more calls followed, telling him the same thing, he decided to return to Accra to check with the West Hills Mall Management.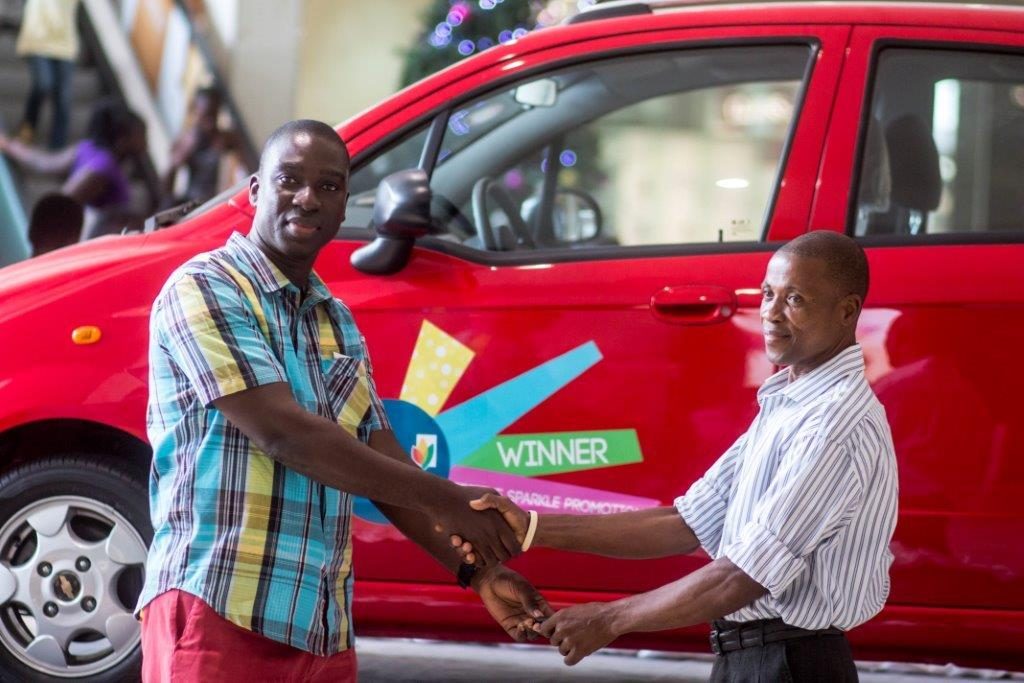 "Mr. Mensah finally arrived at our offices on the holiday, Tuesday, January 2 clearly uncertain about his good fortune and whether he would really drive home the car," said Michael Konadu, Marketing Manager at West Hills Mall.
"The purpose of this promo was specifically to put some sparkle in the shopping experience of our cherished customers during the festive season and as you would expect from West Hills Mall, credibility and fair play have been indispensable elements in our promos as they are in all our operations.
"That is why we partnered with the National Lottery Authority from the very start of this campaign. We had five winners each receiving shopping vouchers worth Ghc 1,000, another five winners went home with cash prizes of Ghc 1,000 each and of course the ultimate prize which lucky Mr. Mensah drove home last week," Mr. Konadu said.
Many will not be surprised by Mensah's good fortune as in May 2016, another youthful customer, Kwame Okyere, a broadcast journalist with Pink FM, drove home a brand new KIA RIO saloon car, by virtue of shopping to the tune of Ghc 230.00 in West Hills Mall's Scratch N Win promo.