The Gambia's parliament has extended President Yahya Jammeh's term, which is due to end on Thursday following his defeat in elections, by 90 days.
It also approved his decision to declare a 90-day state of emergency in the tiny West African state.
Regional leaders have threatened to use military force to oust Mr Jammeh if he refuses to hand power to President-elect Adama Barrow on Thursday.
Thousands of UK and Dutch tourists are being evacuated from The Gambia.
The country is popular with European holidaymakers because of its beaches.
The Gambia was plunged into crisis after Mr Jammeh rejected Mr Barrow's shock victory in the 1 December election.
In a televised announcement on Tuesday, Mr Jammeh said "any acts of disobedience to the laws of The Gambia, incitement of violence and acts intended to disturb public order and peace" were banned under the state of emergency.
He said security forces were instructed to "maintain absolute peace, law and order".
What has been the international reaction?
The US State Department urged Mr Jammeh to transfer power to Mr Barrow on Thursday.
"Doing so would allow him to leave office with his head held high and to protect The Gambian people from potential chaos," spokesman John Kirby said.
"Failure to do so will put his legacy, and more importantly The Gambia, in peril," he added.
Regional bloc Ecowas, the Economic Community of West African States, has prepared a Senegal-led force to oust Mr Jammeh if he refuses to step down.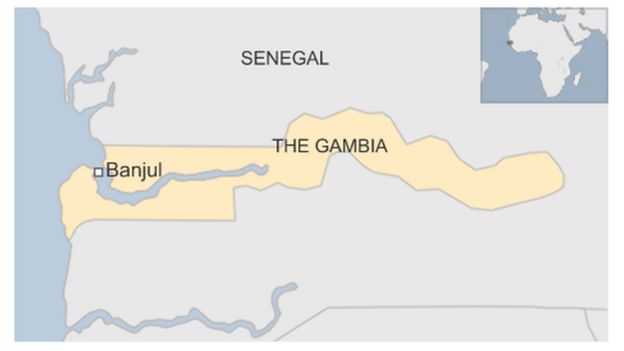 A military source told the BBC that a Nigerian warship was sailing towards The Gambia as a show of force ahead of possible military intervention.
Nigeria's air force was contributing 200 "supporting" troops for the regional force, navy spokesman Capt Dahun Jahun told the Associated Press news agency.
Ghana was also contributing to the force, it reported.
Ecowas is acting with the backing of the African Union, which has said it will not recognise Mr Jammeh as president after Thursday.
–
Source: BBC