Accra-based Citi 97.3 FM, has emerged Ghana's topmost English Radio station in GeoPoll's survey of radio stations' performance nationwide for the year 2016.
But the station came third after Akan-speaking stations, Peace FM, and Adom FM, which were named 1st and 2nd respectively. Prior to this yearly rating, the station has consistently performed creditably in GeoPoll's quarterly surveys.
In August 2016 for instance, Citi FM emerged Ghana's topmost English Radio station in GeoPoll's second quarter survey of radio stations' performance nationwide.
The station, which celebrated its 12th anniversary on November 5, 2016, has become the preferred choice for many discerning radio listeners, as it remains committed to its mission of building the most influential radio brand, through innovative and quality radio programming.
As Radio and TV continue to be the most popular broadcast media in Africa, GeoPoll has analyzed the top TV and Top Radio Stations across Ghana during 2016.
The GeoPoll Media Measurement service has been examining ratings and audience share for the top stations in Ghana, Kenya, Uganda, Tanzania, Rwanda, Democratic Republic of Congo, Mozambique and Nigeria to provide media insights into markets where data is scarce.
In 2016, in Ghana alone, GeoPoll conducted 711,783 unique media measurement surveys, averaging nearly 2000 completes per day.
Ghana Radio Ratings 2016:
GeoPoll in its release said it had analyzed the top Radio stations in Ghana at both a national and regional level for 2016.
The chart below shows the average ratings for the top 10 Radio stations across the entire country.
Peace and Adom FM battle for the top station in Ghana, with Peace achieving a slightly higher overall share across the day.
The graph below illustrates radio ratings in both the morning (6-10 AM) and drive (2-6 PM) time brackets.
Radio was also analyzed at the regional level in Ghana. The graphs below show the top 10 radio stations in each region by share: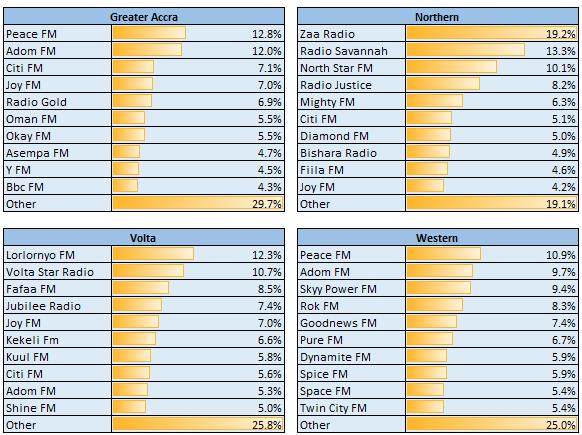 Ghana TV Ratings 2016:  UTV most watched TV station in 2016
GeoPoll, which also rated the performance of television stations nationally for the year 2016, named UTV as the most watched Ghanaian TV station in 2016.
The chart below shows the average ratings for the top 10 TV stations.
Per the graph above, UTV was the most watched TV station in Ghana in 2016 with a share of nearly 20%.
It was followed closely in second by Adom TV at 16.5% share, and in the third position was TV3 with 15.4% share.
Rounding out the top stations were Joy Prime (10.6%), GH One (8.5%), GTV (8.5%), Joy News (7.1%), Metro TV (5.9%), and Viasat One (5.7%).
UTV before now, had consistently topped the quarterly ratings by GeoPoll.
GIBA partners GeoPoll for performance data
GeoPoll, one the largest provider of overnight audience measurement data in Africa, in 2015, partnered with the Ghana Independent Broadcasters Association (GIBA), in a move that will allow all GIBA members to access GeoPoll and Kantar Media's industry-leading audience data.
Kantar-GeoPoll Media Measurement is the only provider of next-day ratings for TV, radio, and print in Ghana and this partnership will give all GIBA members access to KGMM's quarterly ratings data.
The partnership means that, media organizations which hitherto relied on data from various data organizations will now be using data from GeoPoll.
Such data is often the basis for advertisers' preference on which media platform to advertise their products and services.
–
By: Ebenezer Afanyi Dadzie/citifmonline.com/Ghana