One of the most innovative and globally recognized agribusiness firms in Ghana, B-Bovid, has reaffirmed its commitment to promote the breeding of the orange-fleshed sweet potatoes (OFSP), to meet the growing market demand in Ghana.
Addressing former UN Secretary General, Kofi Annan and his wife Nane Annan, on B-Bovid's OFSP project ongoing in the Western Region, the company's Chief Executive Officer, Issa Ouedraogo, said B-Bovid is pioneering large-scale OFSP production due to the crop's nutritious benefits for children, pregnant women and lactating mothers.
He said B-Bovid's current 60 acre OFSP plantation being funded by the Jubilee Partners as part of their corporate social responsibility to benefit coastal communities, will be extended to cover more areas in the Western Region.
The meeting at Elmina in the Central Region to update the Annans on ongoing campaigns aimed at promoting the breeding and consumption of the highly nutritious crop in the Western and Central Regions, was also used to showcase a variety of OFSP processed foods under the promotion of Women in Agriculture Development (WIAD) programme.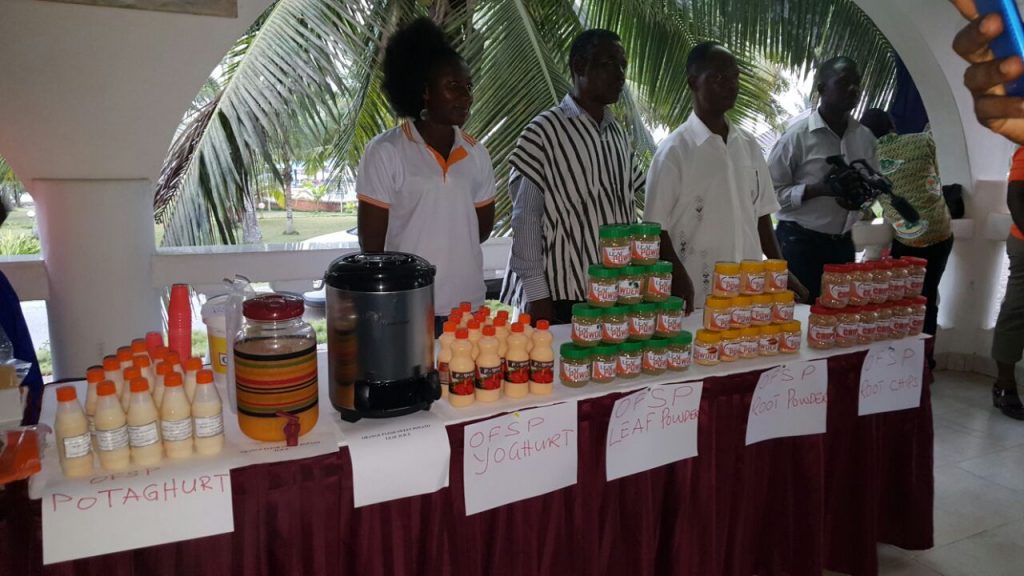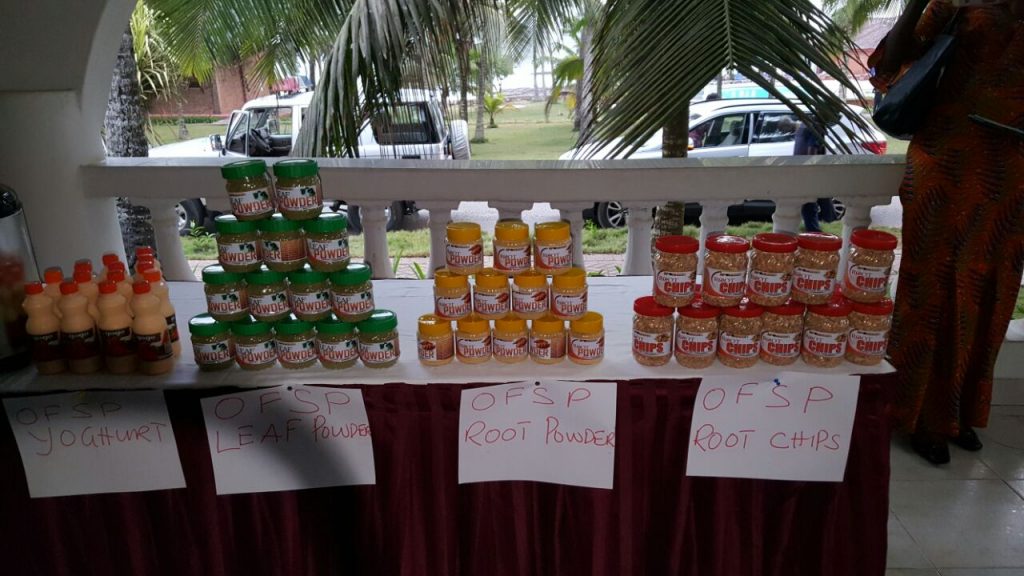 Addressing stakeholders at the event, Nane Annan lauded the efforts of B-Bovid as well as other local OFSP breeders involved in the promotion campaign, and pledged continued support for the initiative.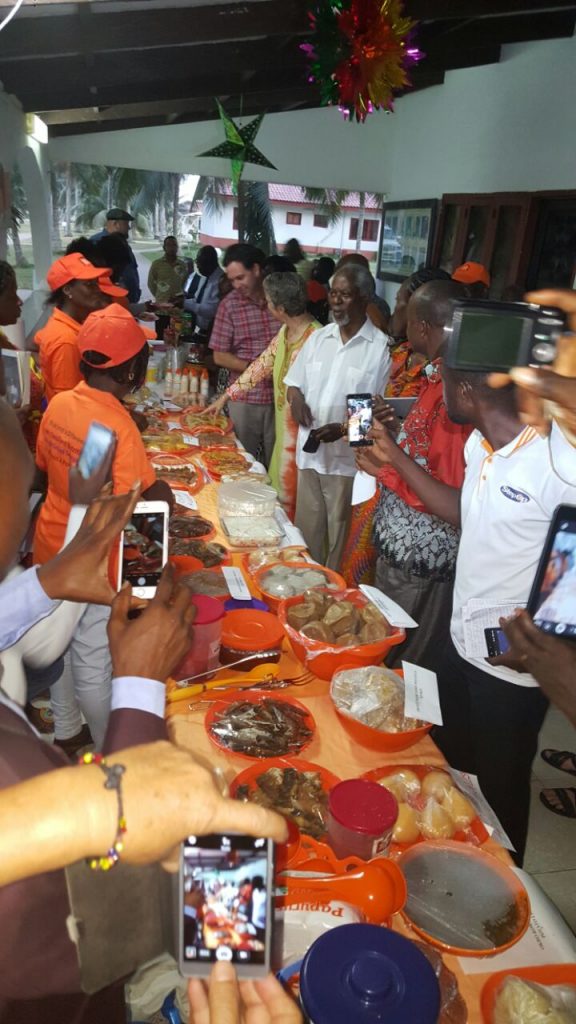 Over 50% of Ghanaian children suffer from Vitamin A deficiency.
The Sweet Potato for Profit and Health initiative by the International Potato Center (CIP) to promote the orange-fleshed sweet potato, targets half a million households in Ghana by 2020.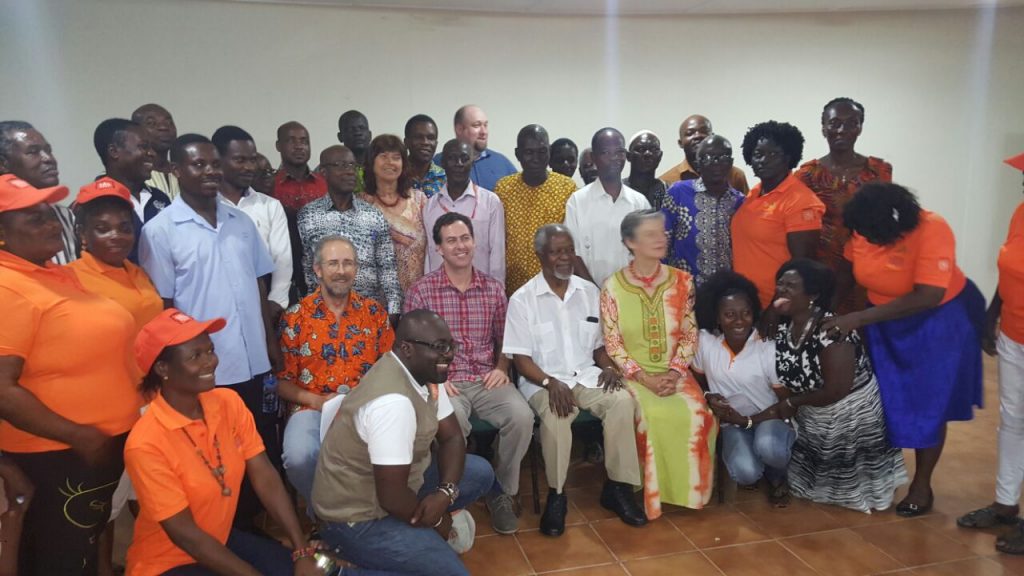 About B-Bovid
B-BOVID, is a Ghanaian agricultural business based at Pretsir in the Ahanta West District of the Western Region, which promotes sound agricultural practices and ecological farming, and offers training to farmers on variety of improved agricultural methods.
It also organizes community outreach programmes to encourage small holder farmers to adopt modern technology, promotes healthy lifestyles and nutrition, and educates farming communities on the impact of climate change and land degradation.
Currently, the World Bank has selected B-BOVID as one of the model farms in the country to be promoted as the ideal farming model that other farmers could tap in to empower themselves and change their fortunes.
B-BOVID wins prestigious UN award
B-BOVID's model has received several commendations from several high ranking officials and global organisations including the United Nations (UN).
In 2012, B-BOVID, won the UN's Social Investment Pioneer Award along with nine other businesses from around the world.
The awards were given in recognition of the companies' outstanding contributions to local community development.
The awards are the initiative of the Principles for Social Investment Secretariat and the United Nations Global Compact.
–
By: Lord Kweku Sekyi/Freelancer/Ghana