Welcome to 2017.
A year with glimpses of far-reaching technological milestones that will influence the way we live. Over the past decade we have been awed at how dynamically and quickly technology is transforming our lives and the world around us. Ten years ago the first generation of IPhones was rolled out, Facebook began its journey of leading the social media trend and the first amazon kindle was released, to mention a few.
2017 is bringing along a fresh batch of tech goodies for us all. It is estimated companies worldwide will spend $3.5 trillion on IT in 2017 according to market research firm Gartner.  This year expect technological highs across the world from these areas;
IoT (Internet of Things)
IoT has become an increasingly growing topic. Right from the moment humans began relying more on technology in order to simplify life, people with science and technology inclination explored the connects of these devices and everyday actions for the greater good of society. Imagine a world where your car was connected to your calendar and knew the shortest route to work with less traffic even though you woke up terribly late.
Mark Zuckerberg had a goal at the beginning of 2016, to create a simple AI to run his home. This is one of the many areas that fall under IoT, specifically Smart Homes. Amazon has also been making strides in the area of smart homes with the creation of Amazon Echo which allows you to control certain aspects of your home by just speaking.
Almost a decade ago Microsoft developed the Microsoft Vision for the future which Amazon is executing through Amazon Go. Microsoft vision was broadly categorized into four; bringing people together, living smarter, friction free creativity and fluid mobility.
Amazon Go; a concept of a grocery store that lets customers walk in, pick items from the shelves and walk out again, absolutely without friction. Customers tap their cellphones on a turnstile as they walk into the store, which logs them into the store's network and connects to their Amazon account through an app. It uses machine learning, sensors and artificial intelligence to track items customers pick up.
Their "Just-walk-out technology" allows the customer to add to the virtual cart on their app. If they pick up an item they later decide they don't want, putting it back on the shelf removes it from their cart. In 2017 we expect more integration of IoT into business activities such as banking halls to deliver exceptional customer service and convenience.
AR and VR (Augmented Reality and Virtual Reality)
Pokemon Go and Oculus Rift grabbed headlines in 2016 because they were AR and VR products whose primary focus was entertainment and games. However, the use of AR/VR is enlarging and enhancing, but not restricted to, areas of health, sports, navigation and machinery operations.
Particularly interesting was how in 2016, the Walk Again Project in Sao Paulo aided a 32 year old to regain partial control of her legs after revolutionary treatment which involved the use of virtual reality. In 2017 we expect a wider and more impactful use of AR/VR devices.
Plans are underway to do even more with AR/VR in the area of medicine, urban navigation and exploration, safety and rescue operations and shopping experience.
Autonomous Vehicles
2017 will usher in the launch of the first level-3 autonomous vehicle meaning a vehicle that is able to fully take over from the driver. Alphabet(the mother company of Google) and Tesla Motors – in 2016 – tested self-automated driving vehicles which encountered a few flaws. These shortcomings were taken by both groups as learning experiences to improve upon design of the Tesla 3 model whose release has been pushed to 2018. Waymo is in the lead of commercializing this autonomous service as it began talks with Honda Motor Co. According to Bloomberg Technology, Waymo and Honda stressed that the talks are about research, rather than full production vehicles, at this point. If all goes well, Honda may provide Waymo with vehicles that are modified to run the self-driving system, and those cars would join the existing Waymo fleet currently being tested in four U.S. cities.
The 13th Brand by VW has plans of joining this trend of autonomous vehicles. Group CEO Matthias Muller said "We could operate sharing schemes, and shuttle services, and then our own ride-sharing fleets once urban autonomous driving is a reality." The service will shed new light on the way shuttle services are conducted.  Uber will not be left out of this. In 2016 they began a test on these vehicles in Pittsburgh.
Mobile Payment Applications
Payments are becoming simpler, faster and convenient. 2016 saw an increase in applications for mobile money payments in Africa, especially Ghana, Nigeria, and Kenya. This surge in availability of mobile money services is propelling its penetration into the continent at a greater speed than can imagined. Mobile money transactions are moving away from remittances to more ubiquitous payments.
In 2016 DreamOval Limited led this with their Mobile Money Application, Slydepay, which allows easy transfer of funds between vendors and people, internet and airtime purchase as well as bill payment. 2017 is the year Mobile Money Payments are projected to boom paving way for the envisioned cash-lite society. More evident will be the use of such mobile money applications for international remittances.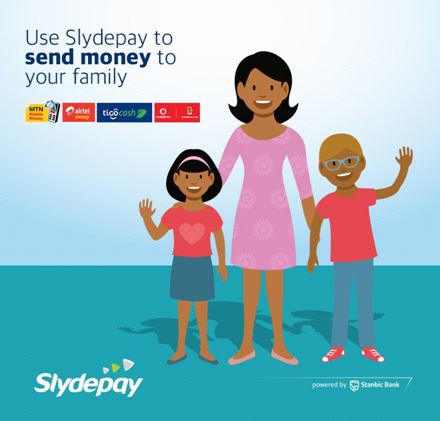 Cloud Services
It has been a slow trend in Africa yet it is projected to be the next most efficient way to store data and work. In 2017 a lot more African businesses are going to opt to store data on cloud as it is convenient, faster to access and in most cases, cost effective. According to Spiceworks:"The shift to the cloud is on. In 2017, worldwide spending on hardware and software projects will both decrease by two percentage points, while budget allocations going towards hosted/cloud-based services will increase by three percentage points. This subtle shift is just another indicator in the slow but steady trend we've seen for years now, with organizations transitioning some on-premises hardware and associated costs to cloud services such as Dropbox, Amazon Web Services and Google Drive."
(Bonus) Live Streaming Services
Live Streaming applications began to take a different turn in 2016 when Facebook introduced Facebook live and Twitter, Periscope.  The use of these services in Africa will have churches, companies and the media harness the power of live streaming apps to share news and live updates with lower data cost. Organizations who would want to make social impact and advertise are encouraged to use these live streaming apps extensively this year.
–
By: Derry Dean Dadzie