Both sides of the transition team have reached a compromise regarding the signing of new contracts and other decisions with major financial implications by the President John Mahama-led administration in its last days.
According to President-elect Nana Akufo-Addo's transition team, the outgoing administration will hence take all such decisions in consultation with the incoming administration.
[contextly_sidebar id="qB1V4wgoRAXF71fTYxbKcqMr4KSTPt9M"]The new Spokesperson of the President-elect's transition team, incoming Ofoase Ayirebi MP Kojo Oppong Nkrumah confirmed this during the transition team's second meeting on Monday.
The representative of President-elect Nana Akufo-Addo, on the Transition team, Yaw Osafo Marfo, had asked for clarity on alleged fresh recruitment into the public sector, and the awarding of fresh contracts days after the National Democratic Congress government lost the elections.
On these concerns, government reminded that it remained the lawfully elected government of the Republic of Ghana and had the authority to exercise all the functions of government until the hand-over on January 7, 2017.
More hand over notes presented
Government's side of the transition team has also presented all but one of the hand over notes to the incoming administration as required by the Presidential Transition Act 2012 (Act 845).
Yaw Osafo Marfo, acknowledged receipt of the notes at a press briefing, with the exceptions notes on the office of government machinery.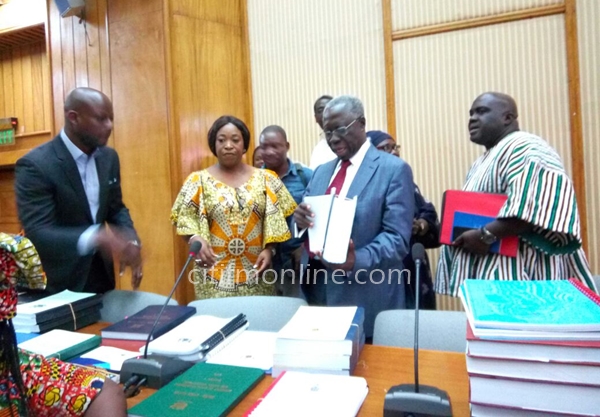 By the provisions of the Presidential Transition Act, the transition team is to make comprehensive arrangements to regulate the transfer of political power following a Presidential election.
The law provides for the establishment of three specific committees; the inauguration sub-committee, the government machinery sub-committee and the presidency sub-committee and any other committees the transition team considers relevant for the performance of its functions.
The last meeting of the transition team on Wednesday, December 14 was to settle on the sub-committees to be established and the composition of each committee so that the various committees could begin the process of planning the inauguration ceremony, handing over the machinery of the Civil Service among other mandates.
–
By: Sixtus Dong Ullo/citifmonline.com/Ghana