The National Democratic Congress (NDC) has suffered huge losses following the general elections on December 7, conceding the presidency and  majority seats in Parliament to the New  Patriotic Party (NPP) .
Prior to Wednesday's polls, the NDC controlled the legislature as they held 148 seats to NPP's 123 of the 275 seats.
However in a massive turnaround, the NPP look set to be the party with the largest number of seats in Parliament.
With the results from 273 constituencies provisionally declared, the NPP have won 170 of them to NDC's 103,
If the results are certified as they are currently, the incoming government will control the  legislature as well as the executive.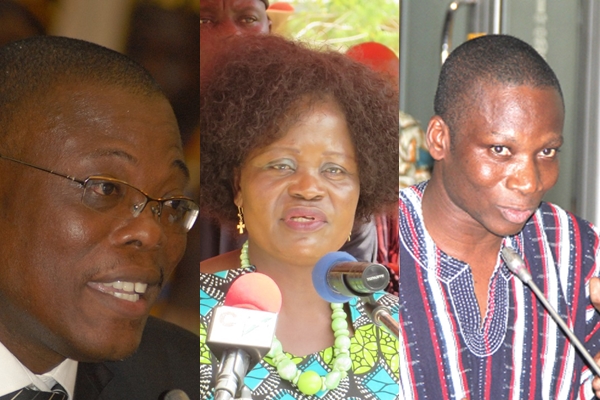 Regional Breakdown
The results from Amasaman, Tamale Central, Bia East, Juaboso, Aowin, Suaman, Amenfi Central, Sefwui Akotombra, Upper West Akim are pending but will not change the outcome in Parliament.
The NDC have had a net loss of 52 Members of Parliament (MPs) from the last session while the NPP have seen a net gain of 46 MPs.
There are 125 new MPs with Ashanti Region recording the highest number of new legislators (25).
Greater Accra (18), Central Region (16) and Northern Region also recorded high numbers of new aspirants winning their seats.
133 MPs, however managed to avoid any upsets and successfully retained their seats, including 26 in the Ashanti Region, 20 in the Eastern Region and 18 in the Brong Ahafo Region.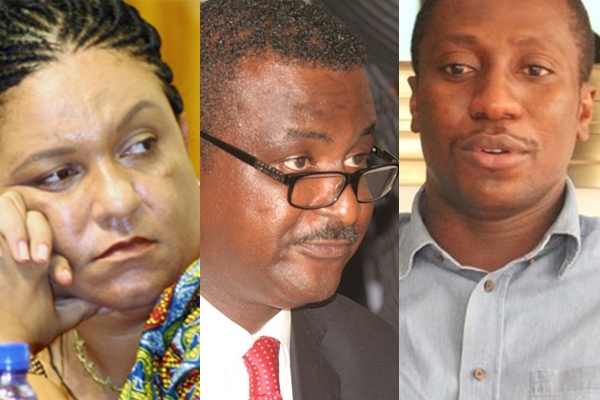 The NDC retained all 12 of their seats in the Upper East Region and lost only one seat in the Volta Region in Krachi East.
However they made massive losses in the Central and Western Regions, losing 12 and 13 seats respectively having held a total of 34 seats in both regions prior to this year's polls.
The Brong Ahafo and Northern Regions were less successful this time around as well as they lost 8 and 7 seats respectively.
The NPP, on the other hand, chalked impressive wins, capturing 12 new seats in the Central Region including George Andah's famous win over Hanna Tetteh in Awutu Senya West.
Of the incumbents that lost their seats 7 were single-term members of parliament; 6 from the NDC and 1 from the NPP.
Central Region 
Find below the figures from the 23 constituencies in the Central Region.
| | |
| --- | --- |
| UPPER DENKYIRA WEST | VOTES |
| AMBROSE AMOAH-ASHYIAH, NDC | 10,655 |
| SAMUEL NSOWAH-DJAN,  NPP | |
| | |
| --- | --- |
| UPPER DENKYIRA EAST | VOTES |
| FREDRICK ENCHILL, PPP | 275 |
| EMELIA  ANKOMAH, NDC | 16,297 |
| NANA AMOAKOH,  NPP | 22,272 |
| YAW ASAMOAH, CPP | 810 |
| OFFIN AMANIANPONG O.K.  ,  PNC | 61 |
| PATRICK ADU, IND | 233 |
| | |
| --- | --- |
| TWIFO ATTI MORKWA | VOTES |
| ABU AYUBA,   PPP | 273 |
| SAMUEL ATO AMOAH,    NDC | 14,887 |
| ABRAHAM DWUMA ODOOM,    NPP | 21,231 |
| EBENEZER APPIAH,     CPP | 115 |
| | |
| --- | --- |
| HEMANG LOWER DENKYIRA | VOTES |
| PAUL KINGSLEY AMBANTIEM,    PPP | 257 |
| FOSTER JOSEPH ANDOH,     NDC | 10,338 |
| BRIGHT WIREKO-BROBBERY,    NPP | 15,043 |
| JOHN FELIX KRAMPAH,      CPP | 119 |
| | |
| --- | --- |
| ASSIN SOUTH | VOTES |
| SABINA APPIAH-KUBI,     NDC | 15,683 |
| JOHN NTIM FORDJOUR,    NPP | 23,308 |
| SANKOFIE ABBAM LARTEY, CPP | 141 |
| NANA NTI TAKRA  ,   IND | 377 |
| | |
| --- | --- |
| ASSIN CENTRAL | VOTES |
| KOFI BLANKSON,      NDC | 10,618 |
| KEN OHENE AGYAPONG,    NPP | 17,979 |
| JOHN DACOSTA BOTCHWEY,    CPP | 154 |
| | | |
| --- | --- | --- |
| ASSIN NORTH | VOTES | |
| ISAAC MANU, PPP | 979 | |
| SAMUEL AMBRE,    NDC | 10,751 | |
| ABENA DUROWAA MENSAH, NPP | 15,553 | |
| SANNI MAHAMA, CPP | 115 | |
| | |
| --- | --- |
| ASIKUMA ODOBEING BRAKWA | VOTES |
| RICHARD ATO QUAINOO,   PPP | 237 |
| ALHASSAN KOBINA GHANSAH,,    NDC | 23,330 |
| ANTHONY EFFAH,    NPP | 23,760 |
| HAYFORD AMOAKOH, CPP | 90 |
| | |
| --- | --- |
| AGONA EAST | VOTES |
| QUEENSTAR POKUA SAWYER,    NDC | 19,789 |
| JAMES OWUSU BARNES,  NPP | 18,513 |
| APPIAH KUBI SHARIFIU,    CPP | 310 |
| | |
| --- | --- |
| AGONA WEST | VOTES |
| CHARLES OBENG-INKOOM,  NDC | 23,423 |
| CYNTHIA MAMLE MORRISON,    NPP | 32,770 |
| EVANS IDAN COFFIE,   CPP | 277 |
| | |
| --- | --- |
| AWUTU SENYA EAST | VOTES |
| NANA KWEKU APPIAH-KWARTEN,  PPP | 494 |
| ADAMS NUHU,   NDC | 24,373 |
| MAVIS HAWA KOOMSON,   NPP | 34,656 |
| NII ADDY ISHMAEL AFUM,   CPP | 123 |
| | |
| --- | --- |
| AWUTU SENYA WEST | VOTES |
| HANNAH SERWAA TETTEH,   NDC | 25,664 |
| GEORGE NENYI ANDAH,    NPP | 28,867 |
| ALLAN BARNES YAWSON,   CPP | 228 |
| | |
| --- | --- |
| EFFUTU | VOTES |
| NANA OFORI OWUSU, PPP | 1,427 |
| ERIC DON-ARTHUR,   NDC | 12,628 |
| ALEXANDER AFENYO MARKIN,    NPP | 22,964 |
| EBENEZER R.  AKUMBEA-SAM,    CPP | 80 |
| MURTALA MUHAMMED UMAR,    PNC | 22 |
| | |
| --- | --- |
| GOMOA EAST | VOTES |
| EUNICE ASSUMANG, PPP | 920 |
| PAITOO DEGRAFT,    NDC | 15,010 |
| KOJO ASEMANYI,    NPP | 17,654 |
| GODFRED KUMEDZRO CUDJOR,  CPP | 105 |
| MARCUS YAW DANSO,  IND. | 1,604 |
| | |
| --- | --- |
| GOMOA CENTRAL | VOTES |
| GRACE IGNOPHIA APPIAH,   PPP | 174 |
| RACHEL FLORENCE APPOH,    NDC | 12,858 |
| NAANA EYIAH,  NPP | 14,178 |
| EMMANUEL APPOH MENSAH,  CPP | 280 |
| | |
| --- | --- |
| GOMOA WEST | VOTES |
| CHARLES YAWSON,    PPP | 2,086 |
| SAMUEL  FLETCHER,   NDC | 21,004 |
| ALEXANDER KODWO KUM ABBAN,   NPP | 22,741 |
| STEPHEN AFRIYIE,     CPP | 260 |
| | |
| --- | --- |
| AJUMAKO ENYAN ESSIAM | VOTES |
| JERRY HENRY QUANSAH,  PPP | 194 |
| CASSIEL ATO BAAH FORSON,   NDC | 25,601 |
| SARAH MENSAH ,    NDP | 57 |
| MONICA DAAPONG,   CPP | 55 |
| RANSFORD EMMANUEL HARRISON,  NPP | 21,903 |
| | |
| --- | --- |
| EKUMFI | VOTES |
| STEPHEN QUANSAH,   PPP | 505 |
| ABEIKU CRENTSIL,   NDC | 11,632 |
| FRANCIS KINGSLEY ATO CUDJOE,   NPP | 12,240 |
| KWEKU ESSOUN,   CPP | 70 |
| | |
| --- | --- |
| MFANTSIMAN | VOTES |
| KWABENA OKYERE,   PPP | 4,043 |
| JAMES ESSUON,   NDC | 26,021 |
| EKOW HAYFORD,  NPP | 26,747 |
| PIUS EBO  DUSHAN, CPP | 318 |
| | |
| --- | --- |
| ABURA ASEBU KWAMANKESE | VOTES |
| CLEMENT ABAIDOO,   PPP | 1,054 |
| SAMUEL KWEKU HAYFORD,   NDC | 20,508 |
| ELVIS MORRIS DONKOH,    NPP | 22,245 |
| KWAME EDU OFORI,  PNC | 116 |
| | |
| --- | --- |
| CAPE COAST NORTH | VOTES |
| SARAH MARY BUCKNOR, PPP | 3,251 |
| KWABENA OWUSU ACHEAMPONG, NDC | 16,309 |
| BARBARA AYISI,   NPP | 19,475 |
| PETER CAESAR KWEGYIR AGGREY,   CPP | 88 |
| | |
| --- | --- |
| CAPE COAST SOUTH | VOTES |
| BRIGHT EDEM DROEFENU,   PPP | 606 |
| RICKETTS HAGAN KWESI,   NDC | 20,456 |
| MICHAEL ARTHUR- DADZIE,  NPP | 19,718 |
| ATO AIDOO-NYANOR,  CPP | 78 |
| ALBERT ISAAC KOFI COBBINA, IND. | 203 |
| | |
| --- | --- |
| KEEA | VOTES |
| JOHN STERLIN,    PPP | 18,860 |
| SAMUEL ATTA MILLS,    NDC | 21,957 |
| STEPHEN NANA ATO ARTHUR, NPP | 15,960 |
| ROSE AUSTIN TENADU,    CPP | 410 |
Ashanti Region
| | | |
| --- | --- | --- |
| CONSTITUENCY | WINNING CANDIDATE | PARTY |
| ASAWASE | ALHAJI M. MUBARAK-MUNTAKA | NDC |
| EJURA SEKYEDUMASE | MUHAMMED BAWAH BRAIMAH | NDC |
| SEKYERE AFRAM PLAINS | ALEX ADOMAKO-MENSAH | NDC |
| ADANSI ASOKWA | KOBINA TAHIR HAMMOND | NPP |
| AFIGYA KWABRE NORTH | NANA MARFO AMANIAMPONG | NPP |
| AFIGYA KWABRE SOUTH | WILLIAM OWURAKU AIDOO | NPP |
| AFIGYA SEKYERE EAST | NKANSAH-BOADU KWASI | NPP |
| AHAFO ANO NORTH | SULEMANA ADAMU SANID | NPP |
| AHAFO ANO SOUTH EAST | FRANCIS MANU-ADABOR | NPP |
| AHAFO ANO SOUTH WEST | JOHNSON KWAKU ADU | NPP |
| AKROFUOM | KWABENA APPIAH-PINKRAH | NPP |
| ASANTE AKIM CENTRAL | KWAME ANYIMADU-ANTWI | NPP |
| ASANTE AKIM NORTH | ANDY KWAME APPIAH-KUBI | NPP |
| ASANTE AKIM SOUTH | KWAKU ASANTE-BOATENG | NPP |
| ASOKWA | PATRICIA APPIAGYEI | NPP |
| ATWIMA KWANWOMA | KOJO APPIAH-KUBI | NPP |
| ATWIMA MPONUA | ISAAC KWAME ASIAMAH | NPP |
| ATWIMA NWABIAGYA NORTH | BENITO OWUSU-BIO | NPP |
| ATWIMA NWABIAGYA SOUTH | EMMANUEL AGYEI ANHWERE | NPP |
| BANTAMA | DANIEL OKYEM ABOAGYE | NPP |
| BEKWAI | JOSEPH OSEI-OWUSU | NPP |
| BOSOME FREHO | JOYCE ADWOA AKOH DEI | NPP |
| BOSOMTWE | YAW OSEI ADUTWUM | NPP |
| EFFIDUASE/ASOKORE | NANA AYEW AFRIYIE | NPP |
| EJISU | KWABENA OWUSU-ADUOMI | NPP |
| FOMENA | ANDREW AMOAKO ASIAMAH | NPP |
| JUABEN | AMA POMAA BOATENG | NPP |
| KUMAWU | PHILIP BASOAH | NPP |
| KWABRE EAST | FRANCISCA OTENG MENSAH | NPP |
| KWADASO | S. KWADWO NUAMAH | NPP |
| MAMPONG | KWAKU AMPRATWUM SARPONG | NPP |
| MANHYIA NORTH | COLLINS OWUSU AMANKWAH | NPP |
| MANHYIA SOUTH | MATTHEW OPOKU PREMPEH | NPP |
| MANSO ADUBIA | YAW FRIMPONG ADDO | NPP |
| MANSO NKWANTA | QUARM JOSEPH ALBERT | NPP |
| NEW EDUBIASE | GEORGE ODURO | NPP |
| NHYIAESO | KENNEDY KWASI KANKAM | NPP |
| NSUTA/KWAMANG/BEPOSO | KWAME ASAFO-ADJEI | NPP |
| OBUASI EAST | PATRICK BOAKYE-YIADOM | NPP |
| OBUASI WEST | KWAKU AGYEMAN KWARTENG | NPP |
| ODOTOBIRI | EMMANUEL A. GYAMFI | NPP |
| OFFINSO NORTH | NTIM AUGUSTINE COLLINS | NPP |
| OFFINSO SOUTH | BEN ABDALLAR BANDA | NPP |
| OFORIKROM | EMMANUEL MARFO | NPP |
| OLD TAFO | ANTHONY OSEI AKOTO | NPP |
| SUAME | OSEI KYEI-MENSAH BONSU | NPP |
| SUBIN | EUGENE B. ANTWI | NPP |
| | | |
Brong Ahafo Region
PARLIAMENTARY
SEATS WON SO FAR
NPP
NDC
20
9
BEREKUM EAST
SENE WEST
BEREKUM WEST
SENE EAST
DORMAA EAST
ASUNAFO SOUTH
DORMAA WEST
ASUTIFI SOUTH
DORMAA CENTRAL
BANDA
SUNYANI EAST
KINTAMPO NORTH
SUNYANI WEST
PRU EAST
JAMAN SOUTH
PRU WEST
JAMAN NORTH
KINTAMPO SOUTH
ATEBUBU-AMANTING
ASUNAFO NORTH
ASUTIFI NORTH
WENCHI
TANO NORTH
TANO SOUTH
TECHIMAN NORTH
TECHIMAN SOUTH
NKORANZA NORTH
NKORANZA SOUTH
TAIN
Brong Ahafo Region
Volta Region
CONSTITUENCY
WINNING CANDIDATE
PARTY
ADAKLU
KWAME  AGBODZA
NDC
AFADJATO SOUTH
ANGELA OFORIWA ALORWU-TAY
NDC
AGOTIME-ZIOPE
CHARLES AGBEVE
NDC
AKAN
ABDUL AZIZ AMUNIRU
NDC
AKATSI NORTH
HON. PETER NORTSU-KOTOE
NDC
AKATSI SOUTH
BERNARD AHIAFOR
NDC
ANLO
CLEMENT KOFI HUMADO
NDC
BIAKOYE
KWADWO NYANPON ABOAGYE
NDC
BUEM
DANIEL KWASI ASHIAMAH
NDC
CENTRAL TONGU
HOTTORDZE ALEXANDER R.
NDC
HO CENTRAL
BENJAMIN KOMLA KPODO
NDC
HO WEST
EMMANUEL KWASI BEDZRAH
NDC
HOHOE
BERNICE ADIKU HELOO
NDC
KETA
RICHARD QUASHIGAH
NDC
KETU NORTH
DR. JAMES KLUTSE AVEDZI
NDC
KETU SOUTH
KWETEY FIFI FIAVI
FRANKLIN
NDC
KPANDO
DELLA SOWAH
NDC
KRACHI EAST
GYATO MICHAEL YAW
NPP
KRACHI NCHUMURU
JOHN MAJISI
NDC
KRACHI WEST
HELEN ADJOA NTOSO
NDC
NKWANTA NORTH
JOHN OTI KWAMENA BLESS
NDC
NKWANTA SOUTH
KINI GEOFFREY
NDC
NORTH DAYI
JOYCELYN TETTEH
NDC
NORTH TONGU
SAMUEL OKUDZETO ABLAKWA
NDC
SOUTH DAYI
ROCKSON-NELSON ESTE KWAMI DAFEAMEKPOR
NDC
SOUTH TONGU
WISDOM KOBENA MENSAH WOYOME
NDC
Upper East
| | | |
| --- | --- | --- |
| CONSTITUENCY | WINNING CANDIDATE | PARTY |
| BINDURI | DR ROBERT KRUGA NAABA | NDC |
| BOLGA CENTRAL | ISAAC ADONGO | NDC |
| BOLGA EAST | DOMINIC AYINE | NDC |
| BONGO | EDWARD BAWA | NDC |
| BUILSA NORTH | JAMES AGALGA | NDC |
| BUILSA SOUTH | DR CLEMENT APAAK | NDC |
| CHIANA PAGA | RUDOLPH NSOWINE AMENGA | NDC |
| GARU | ALBERT AKUKA ALALAZUUGA | NDC |
| NABDAM | DR MARK KURT NAWAANI | NDC |
| PUSIGA | LARDI AYAMBA | NDC |
| TALENSI | BENSON TONGO BABA | NDC |
| NAVRONGO CENTRAL | JOSEPH KOFI ADDA | NPP |
| TEMPANE | JOSEPH KPEMKA | NPP |
| ZEBILA | DR FRANK FUSEINI ADONGO | NPP |
| BAWKU CENTRAL | | |
Northern Region
| | | |
| --- | --- | --- |
| CONSTITUENCY | WINNING CANDIDATE | PARTY |
| BOLE BAMBOI | YUSIF SULEMANA | NDC |
| CHEREPONI | SAMUEL ABDULAI JABANYITE | NDC |
| DABOYA | MAHAMA SHAIBU | NDC |
| DAMONGO | MUTAWAKIL ADAM | NDC |
| KARAGA | ALHASSAN DANDAWA | NDC |
| KUMBUNGU | RAS MUBARAK | NDC |
| MION | MOHAMMED ABDUL AZIZ | NDC |
| SAGNARIGU | ABA FUSEINI | NDC |
| SALAGA NORTH | MUMUNI ALHASSAN | NDC |
| SAWLA TUNA KALBA | ANDREW CHIWITEY DARI | NDC |
| TAMALE NORTH | SUHUYINI ALHASSAN | NDC |
| TAMALE SOUTH | HARUNA IDDRISU | NDC |
| TATALE SANGULI | TAMPI ACHEAMPONG SIMON | NDC |
| YAGABA/KUBORI | IBRAHIM TANKO | NDC |
| YAPEI KUSAWGU | JOHN JINAPOR | NDC |
| ZABZUGU | ALHASSAN UMAR | NDC |
| BIMBILA | DOMINIC NITIWUL | NPP |
| BUNKPURUGU | SOLOMON BOAR | NPP |
| GUSHEGU | DR ZIBLIM IDDI | NPP |
| KPANDAI | MATHEW NYIDAM | NPP |
| NALERIGU GAMBAGA | HAJIA ALIMA MAHAMA | NPP |
| NANTONG | HARDI TUFERU | NPP |
| SABOBA | CHARLES BINTIM | NPP |
| SALAGA SOUTH | ADAM BRAIMAH SALIFU | NPP |
| SAVELUGU | ABDUL SAMED GUNU | NPP |
| TOLON | SUHUYINI WUMBEI | NPP |
| WALEWALE | DR SAGRE BAMBANGI | NPP |
| WULENSI | THOMAS DONKOR OGAJA | NPP |
| YENDI | HABIB TIJANI | NPP |
| YUNYOO | OSCAR LIWAAL | NPP |
| TAMALE CENTRAL | | |
| | | |
Western Region
| | | | | |
| --- | --- | --- | --- | --- |
| CONSTITUENCY | WINNING CANDIDATE | PARTY | | |
| AHANTA WEST | LAWYER KOJO KUM | NPP | | |
| AMENFI EAST | PATRICK BOGYAKO SAIME | NPP | | |
| AMENFI WEST | ERIC AFFUL | NDC | | |
| AOWIN | MATHIAS KWAME NTOW | NDC | | |
| BIA EAST | RICHARD ACHEAMPONG | NDC | | |
| BIA WEST | AUGUSTINE TAWIAH | NDC | | |
| BIBIANI-ANHWIASO-BEKWAI | KINGSLEY ABOAGYE GYEDU | NPP | | |
| BODI | SAMPSON AHI | NDC | | |
| EFFIA | JOSEPH CUDJOE | NPP | | |
| ELLEMBELE | EMMANUEL ARMAH BUAH | NDC | | |
| ESSIKADU-KETAN | JOE GYARTEY | NPP | | |
| EVALUE – AJOMORO – GWIRA | CATHERINE ABLEMA AFEKU | NPP | | |
| JOMORO | PAUL ESSIEN | NPP | | |
| JUABOSO | KWABENA MINTAH AKANDOR | NDC | | |
| KWESIMINTSIM | JOSEPH MENSAH | NPP | | |
| MPOHOR | ALEX AGYEKUM | NPP | | |
| SEFWI AKONTOMBRA | DJORNOBUAH ALEX TETTEH | NPP | | |
| SEFWI WIAWSO | DR. KWEKU AFRIYIE | NPP | | |
| SEKONDI | LAWYER ANDREW MECER | NPP | | |
| SHAMA | ATO PANFORD | NPP | | |
| SUAMAN | STEPHEN MICHAEL ESSUAH KOFI ACKAH | NDC | | |
| TAKORADI | DR. KOBBY OTCHERE DARKO MENSAH | NPP | | |
| WASSA EAST | ISAACE ADJEI MENSAH | NDC | | |
| TARKWA NSUAEM | GEORGE MIREKU DUKER | NPP | | |
| PRESTEA HUNI VALLEY | BARBARA OTENG GYASI | NPP | | |
| AMENFI CENTRAL | PETER YAW KWAKYE-ACKAH | NDC | | |
Greater Accra 
| | | |
| --- | --- | --- |
| CONSTITUENCY | WINNING CANDIDATE | PARTY |
| ABLEKUMA CENTRAL | EBENEZER GILBERT NII NARH NARTEY | NPP |
| ABLEKUMA NORTH | NANA AKUA AFRIYIE | NPP |
| ABLEKUMA SOUTH | VANDERPUIJE ALFRED OKOE | NDC |
| ABLEKUMA WEST | URSULA OWUSU | NPP |
| ADA | COMFORT DOYOE CUDJOE GHANSAH | NDC |
| ADENTAN | YAW BUABEN ASAMOA | NPP |
| AMASAMAN | EMMANUEL NII OKAI LARYEA | NDC |
| ANYAA/SOWUTUOM | SHIRLEY AYORKOR BOTCHWAY | NDC |
| ASHAIMAN | ERNEST HENRY NORGBEY | NDC |
| AYAWASO CENTRAL | HENRY QUARTEY | NPP |
| AYAWASO EAST | NASER MAHAMA TOURE | NDC |
| AYAWASO NORTH | YUSSIF JAJAH | NDC |
| AYAWASO WEST WUOGON | EMMANUEL KYEREMANTENG AGYARKO | NPP |
| BORTIANOR-NGLESHIE AMANFRO | HABIB SAAD | NPP |
| DADEKOTOPON | VINCENT SOWAH ODOTEI | NPP |
| DOME/KWABENYA | SARAH ADWOA SARFO | NPP |
| DOMEABRA/OBOM | SOPHIA KAREN ACKUAKU | NDC |
| KORLE KLOTTEY | ZANETOR RAWLINGS | NDC |
| KPONE-KATAMANSO | JOSEPH NII LARYEA AFOTEY AGBO | NDC |
| KROWOR | ELIZABETH AFOLEY QUAYE | NPP |
| LEDZOKUKU | BERNARD OKOE BOYE | NPP |
| MADINA | ABUBAKAR SIDDIQUE BONIFACE | NPP |
| NINGO PRAMPRAM | SAMUEL NARTEY GEORGE | NDC |
| ODODODIODIOO | EDWIN NII LANTEY VANDERPUYE | NDC |
| OKAIKWEI CENTRAL | PATRICK BOAMAH | NPP |
| OKAIKWEI NORTH | FUSEINI ISSAH | NPP |
| OKAIKWEI SOUTH | AHMED ARTHUR | NPP |
| SEGE | OTUTEYE CHRISTIAN CORLEYTEY | NDC |
| SHAI-OSUDOKU | LINDA OBENEWAA AKWELEY OCLOO | NDC |
| TEMA-CENTRAL | KOFI BRAKO | NPP |
| TEMA-EAST | DANIEL NII KWARTEI TITUS-GLOVER | NPP |
| TEMA-WEST | KINGSLEY CARLOS AHENKORAH | NPP |
| TROBU | MOSES ANIM | NPP |
| WEIJA / GBAWE | TINA GIFTY NAA AYELEY MENSAH | NPP |
–
By: Edwin Kwakofi/citifmonline.com/Ghana