The Greater Accra Regional Minister, Nii Laryea Afotey-Agbo, has rejected claims that the National Democratic Congress government was defeated because of utterances made by the founder of the party, Jerry John Rawlings.
According to him, the former president cannot be blamed because he provided good counsel which could have kept them in power if they had listened to him.
"I don't think the former president should be blamed for anything because this is somebody I've been with at a very close range and worked with and I don't think he needs to be blamed for whatever situation we are in now. He gave us all the needed advice, whatever it takes for us to remain in office. If at a point he kept quiet, he wasn't coming out again, I don't see why he should be blamed for whatever situation we are in now as a political party," he added.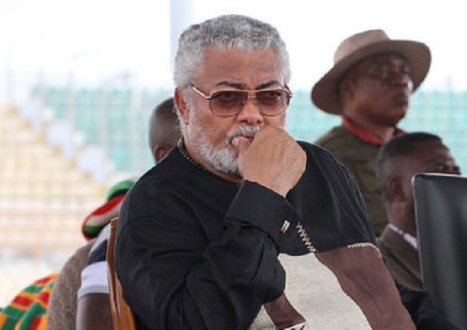 [contextly_sidebar id="SsZw9DNaUiMKzfuurxcxhkQr4bpFrSw4″]Afotey-Agbo made the comment in response to the Greater Accra Regional Organizer of the NDC, Anthony Nukpenu, who accused the party's founder of contributing to their loss.
According to Nukpenu Mr. Rawlings painted the NDC as corrupt, which the New Patriotic Party (NPP) capitalized on to campaign against them.
"We as a party we have a founder in the person of Jerry John Rawlings and as party members we felt he should be a protective cover for the party and the government but he chose to arm the opposition against us.  The NPP got to our heels by campaigning against us heavily on this so called corruption perception and anytime they made that claim they claimed that the founder of the NDC is the one who said the president is the most corrupt person and his appointees are very corrupt so they should be voted out. So if you have this message being used against you by your political opponents and courtesy the founder of your party it goes a long way to affect your political fortunes. And that has been one of the tools that have heated us to have this humiliating defeat," he argued.
But speaking on Eyewitness News, the outgoing Greater Accra Regional Minister said Nukpenu's assertion cannot be true because Mr. Rawlings did nothing wrong.
He further blamed their defeat on some District Chief Executives who he said failed to offer the needed services to their constituents.
"We cannot even blame anybody for our loss. If we had done things well at the various levels, if some DCEs had behaved well and had been on top, being at the service of the people when they were needed, I don't think we will lose some of the seats especially in the Greater Accra Region and other parts of the country," he added.
–
By: Godwin A. Allotey/citifmonline.com/Ghana
Follow @AlloteyGodwin