American Television Network, Cable News Network (CNN) has succumbed to pressure from Ghanaians and amended the misleading parts of its story on Ghana's recently held elections.
The media network in a report on the December 7 elections said Ghanaians struggle to purchase food and usually queue for basic services.
[contextly_sidebar id="v9jtZCAb5qBtTMO48Zqzs6Unjp0DiJ1P"]The article, titled, 'Ghana election: Incumbent concedes to Nana Akufo-Addo' said; "The national economy will be Akufo-Addo's major challenge. Oil reserves were discovered off the coast of Ghana in 2007, but Ghanaians struggle to obtain food and day-to-day services. Rolling blackouts are common and citizens often stand in long line to obtain products."
Many social media users took to various platforms to express outrage over the report describing it as a "lazy reportage" and "falsehood".
The campaign, which was started by Ghanaian sports journalist, Gary Al-Smith also sought to impress upon CNN to take down or amend the article saw many Ghanaians using the hashtag #CNNGetItRight to demand that the right thing is done.
Among other complaints raised by the campaigners included the wrongful spelling of "Ghanaians", written as "Ghanians" and a false statement that Ghana's president-elect, Nana Akufo-Addo had contested a general election in 1998.
Citifmonline.com checks, hours after the start of the campaign revealed the article had been amended.
The changes were effected at 14:02GMT with an editorial note that said, "An earlier version of this article incorrectly described the status of the retail economy in Ghana. Stores are generally well stocked, and food shortages are rare."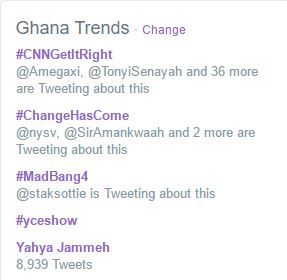 The outrage expressed in the tweets and posts of the campaigners saw the hashtag trend at Number 1 in the country on Sunday afternoon.
–
By: Jonas Nyabor/citifmonline.com/Ghana
Follow @jnyabor