President John Mahama will be retiring on a salary of GH¢22,809, up from the non-taxable salary of GH¢15,972 previously approved for presidents.
This reflects about 43 percent increase from the amount previously paid to presidents. This was contained in the Presidential Emoluments Committee on the conditions of service of Article 71 office holders' report available to citifmonline.com.
The Committee which is a creation of the 1992 Constitution was headed by Prof. Dora Francisca Edu- Buandoh of the University of Cape Coast with four other members.
The Prof. Dora Francisca Edu- Buandoh report was approved by Parliament after series of closed-door sessions before the house rose for the end of year holidays.
According to the report, the outgoing President, while on retirement will receive benefits such as state-provided staff not exceeding four (4) and a furnished and up-to-date office and communication equipment and staff support consisting of a cook, steward and gardener.
Mahama won't get a house
Instead of going home with a fully furnished house in Accra and another location of his choice outside the capital, President Mahama will rather receive "40 percent of [his] salary to be paid monthly."
This is a deviation from the Chinery-Hesse Committee Report (2001-2005) which said, former Presidents should receive "one fully furnished residence in the national capital and one out-of-capital residence at a location of the former President's choice; all of which should not revert to the state in the event of the demise of the former President." In the area of security, "the state will provide two security persons to be chosen by the former President from state security. Two vehicles for security."
For transport, President Mahama will be given two vehicles, a chauffeur, maintained and comprehensively insured by the State and changed every four years for life.
For overseas official travel, the state will fully pay for all such trips with his spouse and two security persons.
The state will however, sponsor only two of such travels per year and those not exceeding two weeks in duration. President Mahama and his wife will also be entitled to free healthcare.
Other benefits include, the payment of utilities at his residence.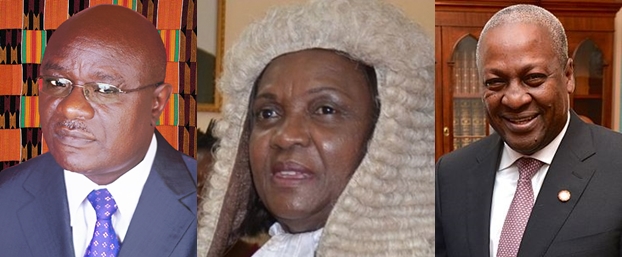 The Chief Justice will also take home GH¢17,107 instead of the previous GH¢15,552 while the Speaker of Parliament, who receives GH¢16,174 will take home GH¢17,791.
Other Article 71 office holders including Justices of the Supreme Court, Members of Parliament (MPs), Ministers of State, political appointees and some public servants will benefit from the 10% across board increase which takes retrospective effect from 2013.
–
By: Jonas Nyabor/citifmonline.com/Ghana