The Paramount Chief of Offinso in the Ashanti Region, Nana Wiafe Akenten III, has called on his fellow chiefs and subjects to support President John Dramani Mahama in his bid to retain the seat as President for a second term.
Nana Wiafe Akenten III was speaking at a gathering of chiefs in the area, when the President paid a courtesy call on him as part of his Ashanti Regional campaign tour.
"For me, I know God who has kept you until now will be with you. All I am requesting from my brothers is that, by any means we can, we should support him [Mahama] to continue his good works. I am asking you to do this wholeheartedly to support him to finish the works God has tasked him to do," Nana Wiafe Akenten III said.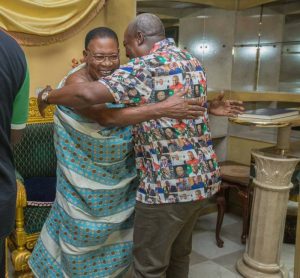 He said President Mahama must be given the nod to complete all the projects he has initiated.
Nana Wiafe Akenten III added that, President Mahama has done a lot of work for the people of Offinso, and is hopeful he will do more for the area if he is given the nod to govern for another four-year term.
"Someone will say he [Mahama] will continue the good works when he is given the nod, but the President is the best person to continue these works because he is the one who crafted them. All that I am pleading of you is to give him all the support, because he has done a lot for Offinsoman and he continues to do more. We are grateful and will never forget you." he said.
'Asantehene warns partisan chiefs'
Nana Wiafe Akenten III's open declaration of support for President Mahama, appears to be in defiance of a charge by the overlord of Asanteman, Otumfou Osei Tutu II, who told chiefs in the Ashanti Region not to meddle in politics nor openly indicate their political leanings before, during or after the upcoming general elections.
"Though Nananom have their choice of party, they still need to be neutral by embracing any political party that comes to their palace during the 2016 election campaign," he said.
The Asantehene, Otumfuo Osei Tutu II, cautioned chiefs under his jurisdiction to desist from partisan politics as he says such acts denigrate the chieftaincy institution.
Addressing the final 2016 session of the Ashanti Regional House of Chiefs in Kumasi, the Asantehene warned chiefs under his jurisdiction not to meddle in politics.
'Mahama promises establishment of Tomato factory'
Meanwhile, President Mahama, who is currently on a four-day tour of the Ashanti Region, is promising the people of Offinsoman a Tomato factory if he is given the nod to serve another four-year term.
According to him, the factory, when established, would help farmers reduce post-harvest loses and also provide jobs for several youth in the area.
–
By: Jonas Nyabor/citifmonline.com/Ghana