South Africa's President Jacob Zuma has dropped his court bid to block the release of a report into his allegedly improper relationship with businessmen.
Mr Zuma's lawyer informed the High Court in the capital, Pretoria, of the decision, but the reasons are unclear.
Opposition groups are rallying in South Africa's major cities to demand Mr Zuma's resignation.
He has been dogged by corruption allegations for more than a decade, but has repeatedly denied any wrongdoing.
The court has ordered that the report, by former anti-corruption chief Thuli Madonsela, be released by no later than 15:00 GMT on Wednesday.
It is believed to contain damning allegations against Mr Zuma, reports the BBC's Milton Nkosi from Pretoria.
Ms Madonsela investigated allegations that he let the wealthy Gupta family wield undue influence in his government.
The Guptas were accused of trying to nominate cabinet ministers in exchange for business favours.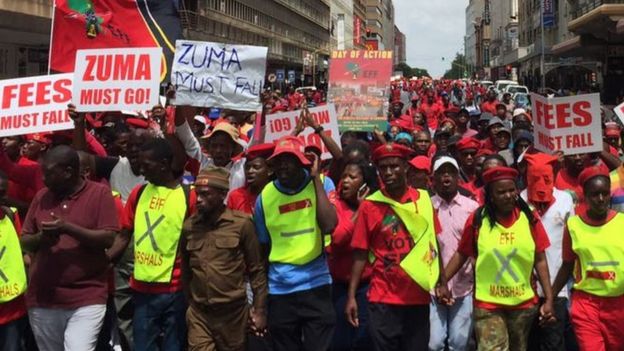 Both Mr Zuma and the Gupta family have denied the allegation.
Mr Zuma's bid to block the report's release was challenged by opposition parties, which are now demanding that he pays their legal costs.
Julius Malema, leader of the Economic Freedom Fighters (EFF), said his party would ask the court to order the report's immediate release.
Thousands of opposition supporters have been rallying in Pretoria, shouting "Zuma must fall."
Democratic Alliance (DA) leader Musi Maimane said state coffers was being "plundered" by "crooks", but the "good guys" were winning in the battle to safeguard the democracy which emerged in South Africa at the end of minority rule in 1994.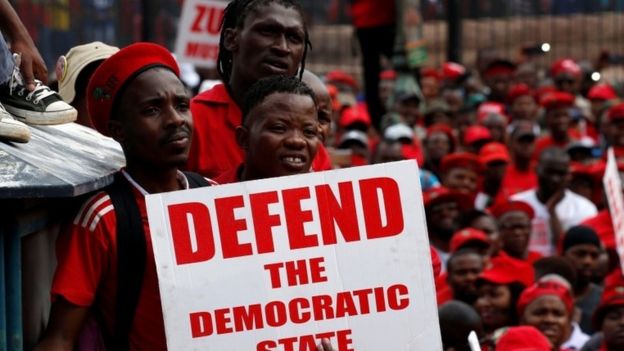 "This is about letting Zuma, the Guptas and all their useful idiots know that their days are numbered," Mr Maimane said.
Ms Madonsela's investigation was triggered by allegations in March by Deputy Finance Minister Mcebisi Jonas that the Gupta family had made "a mockery of our hard-earned democracy" by offering him the finance minister's post last year.
Mr Jonas said he rejected the offer; the Guptas denied the allegation and accused him of political point-scoring.
Former ANC MP Vytjie Mentor also alleged that the family offered her the powerful public enterprise minister's post in 2010 in exchange for business favours.
Ms Mentor alleged that Mr Zuma was in another part of the Guptas' family home in Johannesburg when the offer was made. Mr Zuma's office said at the time that he had no "recollection" of Ms Mentor, while the family strongly denied her allegation.
–
Source: BBC