The Flagbearer of the Independent People's Party (IPP), Kofi Akpaloo, has joined the list of parties suing the Electoral Commission for disqualifying their presidential aspirants from contesting the December 7 presidential elections.
Mr. Akpaloo, who is the latest to sue the Electoral Commission for rejecting his nomination, is praying the court to quash his disqualification and also to compel the EC to allow him correct the anomalies on his nomination form.
[contextly_sidebar id="6SquRfBaHOpmFD3MGVAoJRAxPeqr8SM1″]He was disqualified from the presidential race because the number of subscribers to his forms did not meet the EC's requirements, whilst three subscribers supported the nomination of another candidate in breach of the Commission's regulations.
The EC also indicated that, cross subscribers on his forms had different signatures on the nomination forms raising questions as to the legitimacy of the signatures.
Reliefs being sought by Mr. Akpaloo
The IPP Flagberer is seeking two reliefs:
I pray that the decision of the Respondents disqualifying me as a candidate for the 2016 presidential elections be quashed.
That I pray for a further order of this Honorable Court upon the Respondents to afford me the opportunity to make the necessary alterations or amendments to my nomination papers and for the Respondents to receive same in the light of the time limited for the conduct of the 2016 elections.
The High Court will hear Mr. Akpaloo's lawsuit on Friday, November 4, 2016.
Lawsuits pending against EC
The Progressive People's Party's Dr. Papa Kwesi Nduom, was the first to sue the commission over his disqualication alongside 12 other aspirants. He eventually won a suit at the High Court, which directed the EC to allow him to correct the anomalies on his form and decide on his candidature.
But the Commission has rejected the judge's ruling and filed an application at the Supreme Court to quash it.
The PNC on October 28, 2016, also filed a suit against the Electoral Commission (EC), praying the court to clear its Flagbearer to contest in the December 7 polls.
The disqualified presidential nominee of the Great Consolidated Popular Party, Dr. Henry Herbert Lartey also filed an injunction suit seeking to stop all electoral processes ahead of the December elections.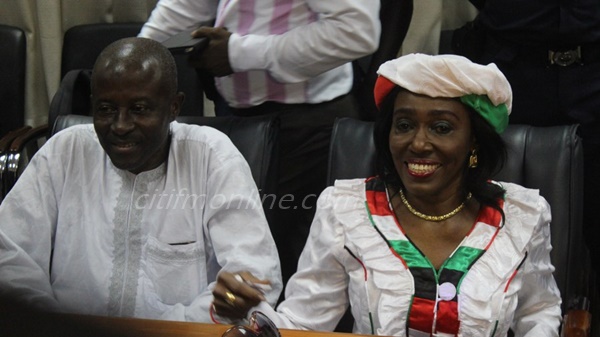 The Flagbearer of the  National Democratic Party (NDP), Nana Konadu Agyeman Rawlings also sued, the EC for disqualifying her from the December 7 general elections, adding the Attorney General to the lawsuit which is seeking an interlocutory injunction, prohibiting and retraining the Commission and its agents from going ahead with the balloting of presidential candidate until the court settles the matter.
All these suits are happening with less than two months to the polls on December 7, 2016.
–
By: Delali Adogla-Bessa/citifmonline.com/Ghana